During your stay in Albufeira, one of the Algarve's summer gems and one of the most sought-after holiday resorts in the Algarve region, Portugal, there are a number of different activities you should try out and take advantage of.
Theme and water parks are probably the best way to keep your family entertained and the little ones busy with their amazing rides, wildlife presentation shows, and many more. Zoomarine and Aquashow, with its adjacent hotel, are two of the greatest amusement venues in the Algarve region and are right in the heart of Albufeira and easily reachable by car or shuttle bus. Ask at the help desk of your hotel how to get there and you should not have any problem finding these wonderful parks.
Zoomarine

Located in Guia, a few kilometres away from Albufeira, Zoomarine is a beautiful theme and water park inspired by marine life. This massive venue is the perfect place for you and your family spend a whole day or more and take advantage of the many activities, such as presentations with dolphins, seals, sea lions, tropical birds, and birds of prey.
Zoomarine also aims to teach the little ones about conservation and environmental education, as well as show them what the wildlife can offer best. At Zoomarine, you will also be able to find an aquarium with sharks, various habitats for different species, such as alligators and aquatic birds, Cinema4D — which uses the latest technology in cinema to show visitors the sea turtle's fantastic journey through the ocean —, attractions, swimming pools, and many other amusing activities.

At Zoomarine, you will be invited to partake in the dolphin show, an interactive show with the trainers in which the dolphins show off their acrobatic moves and tender behaviour. There are two package experiences available (Dolphin Emotions Premium and Dolphin Emotions Exclusive) and for those interested in getting to know the dolphins a little bit better, including swimming with them and learning about its biology and ecology.
Education and conservation are a huge part in Zoomarine's continuous philosophy and mission as far as environmental realities are concerned. The park offers a range of educational programmes for every visitor, regardless of age or background.

In addition to the leisure and educational sides of Zoomarine, Albufeira, there is also the possibility of providing your guests with an unforgettable event, whether business or personal, in the surroundings of the park.
For schedules, programme suggestions, school visits, tickets, and other promotions, refer to the Zoomarine website and have fun in the greatest theme park in Albufeira.
Aquashow Park
Located in Quarteira, right next to Albufeira and easily reachable by car or shuttle bus, the Aquashow Park is one of the Algarve's places to be in the summer and spent a wonderful vacation.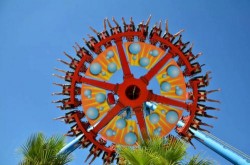 There are several theme water attractions for you and your family to enjoy. Wild Snake is a 16-meter high water slide shaped as a snake that will provide you with an outstanding ride in the dark and a surprise outcome. The White Fall is built for those who like adventure and are not afraid of exciting rides. The Wave Swimming Pool is probably the most populous area of the Aquashow Park, a place for the entire family to play in the water under the lovely sun of Albufeira.
For those who prefer other activities, there is a Rollercoaster, the Top Swing, which is a 12-meter pendulum, as well as the macaw show, the birds of prey show, the reptile show, the Space Centre, the museum and the Air Race, a ride that depicts airplane manoeuvres and acrobatic moves.
To make sure you take full advantage of the park and all its facilities, there is nothing better than to stay at the Aquashow Park Hotel and stay close to the adventure day and night. This is the only four-star hotel in Portugal that combines a Water and Theme Park to a luxurious and top-notch hotel.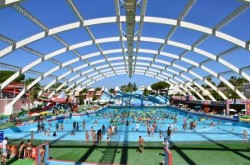 The hotel provides 148 double bedrooms with air conditioning and a unique decoration. Inside, you will also find a gym, a Jacuzzi and indoor and outdoor swimming pool.
The guests at the hotel have full access to the Aquashow Theme and Water Park during their stay free of charge. Check out the hotel's website to get to know more about booking fees, promotions, and other services provided. While you are at it, head on to the Aquashow Park website to find out more about wildlife shows, water attractions, theme park attractions, events, schedules, price fares, and more.