Albufeira coastal landscapes and shores are incredibly famous thanks to the clean beaches and excellent supporting facilities. Its location is also another reason why so many tourists visit it throughout the entire year, but mainly during summertime: this Algarve destination in southern Portugal attracts as many sun lovers as you can imagine.
Albufeira holds the highest number of "blue flags" (there were 20 in Albufeira), as well as the highest number of earned official "golden beach seals" (given out by Quercus). These praises are extremely important for Albufeira and its countless number of beaches so that they keep being supported and insured good care.
Gale Beach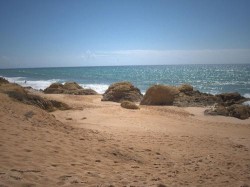 Between Armação de Pêra and Albufeira is Gale Beach, an actual extension of the Armação de Pêra Beach. The western part of Gale Beach is more wide and open than the other end that extends to east, which is actually formed by a number of caves, grottoes, and wonderful rocky outcrops.
These rock formations actually have the ability to form rock pools, which are incredibly popular amongst families. This is also where a number of resort hotels are located, providing premium accommodation just a few steps from the beach.
Fisherman's Beach
Fisherman's beach is one of the most popular beaches in Albufeira due to its location close to the old town. Fish restaurants and the remaining fishermen that still work daily on those shores are the main attractions at the Fisherman's Beach.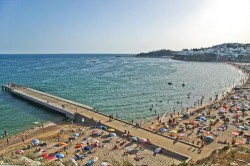 The accesses are amazing, and there is even an escalator down to beach level for visitors driving to Albufeira. Loungers and parasols can be hired and water sports are plentiful at the Fisherman's Beach.
The Fisherman's Beach Square holds several live performances and entertainment shows throughout the year, adding up for its popularity amongst locals and tourists alike. Restaurants and bars improve their beach-front terraces and let customers make the most of it.
There are also a number of street markets and fairs held at the Fisherman's Beach Square, turning it into one of the most visited and crowded squares in Albufeira.
Evaristo Beach
This beach within the Albufeira municipality stretches 60 km west from the town of Albufeira and 50.4 km west from Faro, the region's capital city. This is a particularly popular beach with fine golden sand and ochre-coloured cliffs in the background, a wonderful setting for well-spent days at the beach.
Evaristo Beach is one of the many beaches with nice supporting facilities, good access areas, including for the disabled, a car park, and a blue flag status, assuring its safety for all the families visiting it. The sea is extremely calm and safe, with average seawater temperature between 20º and 23º C.
Due to the abounding outcrops across the shore, snorkelling has become one of the many activities chosen by marine life enthusiasts and other visitors to the beach.
During the summer season, the Evaristo Beach is patrolled by lifeguards and people are welcome to hire loungers and parasols to enjoy the beach the most. If you are thinking of spending the day at Evaristo Beach, feel free to explore the area and get to know the gastronomic delicacies at Evaristo restaurant, which has no menu, and people just choose from the selection of freshly caught fish.
Falesia Beach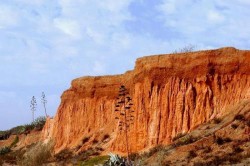 Falesia Beach is known for its beautiful orange-coloured cliffs, especially when the sun sets on them. The long stretch of sand turns it into a sought-after beach, although it does not become particularly crowded, even in high season, but beware for exceptions.
As the space occupied by the sand is somewhat narrow, make sure you pay attention to the tide, as it might steal you even more space for you to take advantage of in the beach. There is a small beach shop, toilet facilities, and a restaurant where you can enjoy the sunset while sipping on your favourite drink.
Santa Eulalia Beach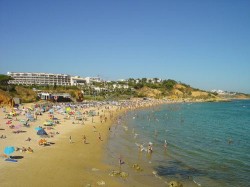 Santa Eulalia Beach is a four-kilometre-wide, white-sand beach of azure and warm waters, stretching eastern into the outskirts of Albufeira.
As it is a well-kept beach with golden cliffs as background, the Santa Eulalia Beach is one of the most popular, coveted beaches in the region thanks to its beautiful, warm sea and quality facilities and services.
There are a number of different resort premium hotels near Santa Eulalia Beach, some of which even grant private access to it, turning it into a very special and unique place for tourists in Albufeira.
A waterside beach bar provides visitors with refreshments and afternoon snacks.
Oura Beach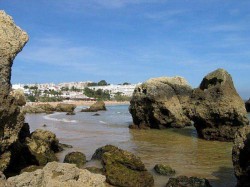 The Oura Beach is a lovely, white-sand beach at the end of the strip in Areias Sao Joao, which access is made down a steep hill.
The beautiful promenade filled with restaurants and cafés is the perfect excuse to spend a day at the Oura Beach.
This is also the perfect beach to engage in water sports, such as para-sailing, jet boat rides, Jet Ski, banana rides, and many more activities for your enjoyment.