Located right in the heart of the southern coast, the city of Faro, in Portugal, is the gateway to the Algarve. Offering some 200km of dramatic golden coastline, protected natural parkland, a whole host of historical, archaeological and architectural gems and some of the best recreational facilities available in Western Europe, it is little wonder that the Algarve has gained the popularity it enjoys today.
Visitors fill the hotels in Faro year after year, flocking from all corners of the globe to sample the tasty regional cookery, bursting with the flavours of the sea and the southern Portuguese sun, explore mile upon mile of sandy beaches, weave their way through the inland pine forests and practice their swing on the world-class golf courses.
There are so many
things to do in Faro
it would be impossible to take them all in with one trip but we will do our best to help. If you are planning to visit Faro, Portugal, faroportugal.org provides you with all you need to know. We give you the low down on
where to stay
, from quirky boutique hotels to five-star luxury and where to head for nightlife in Faro.
Whether you are looking for a bite to eat, a relaxing drink or a chance to dance the night away until the sun rises over the horizon to light up another day on this spectacular stretch of Atlantic coastline, nightlife in Faro offers something for everyone and we will help guide you through the options.
There are many things to do in Faro – spend your days wandering through the old town, exploring the museums or simply relaxing on the marina and drinking in the sights and sounds of this entrancing city. Faro's charm does not stop at the city boundaries – it is set in a landscape of rolling pine forest, shallow lagoons and stunning sea views.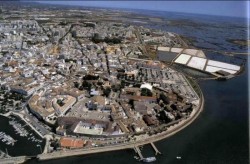 Take a trip out into the Ria Formosa, the protected natural park that is one of Portugal's seven official natural wonders, explore the Roman remains at nearby Estoi or head to one of Europe's leading golf resorts to try your hand on a world-class course.
Whatever you are looking for in your trip to Faro, Portugal, faroportugal.org brings together the best of the bunch to help you get the most out of your time in the area.
Read More...