Faro, on Portugal's Algarve, is famous for its fish and seafood dishes and its leading restaurants certainly do justice to this reputation. Camané Restaurant is located right on the waterfront, perched on one of the sand spits that separates the mainland from the rolling waves of the Atlantic Ocean. It is one of a number of restaurants in this popular strip, known as the Ilha de Faro, or Faro Island, and certainly well worth the trip across the Ria Formosa Natural Park to get there.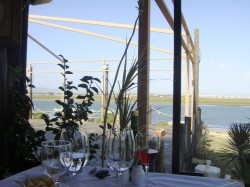 The island is accessible by car from the mainland or by boat as part of a tour through the wetlands of the Ria Formosa, a popular sightseeing spot where visitors can marvel at the scenery and spot the many endangered species of bird that are thriving in this unique, protected environment.
Camané Restaurant is a restaurant of "two halves" – by day it is a popular beach restaurant location where guests can withdraw from sea fun and sun bathing on the hot sands to enjoy a leisurely lunch in an idyllic location, while by night it transforms itself in a fine dining experience that compares favourably with the best in the area.
And yet fine dining food does not come at fine dining prices here in comparison to much of Portugal's fine dining scene. Prices for exquisitely prepared dishes are very reasonable, made all the more comfortable by the friendly and attentive waiting staff who are guaranteed to make your meal an enjoyable one.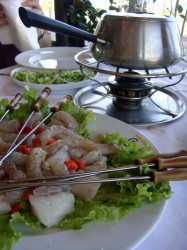 Freshly caught fish and seafood are the restaurant's speciality. Owners Carlos and Angela Martins take great care to select the finest fresh fish and ingredients and ensure they are prepared with a gentle touch and great flavour. 
The menu offers rich seafood soups, delicately flavoured lobster and freshly grilled fish and there are several house specialities such as Fried Eels, Mackerel Alimos and Razor Clams. For a speciality alternative to fish try the Baked Goat or one of the delicious sizzling steaks from the grill.
The restaurant is open all day until 23.00 every day except Monday. It is popular with large groups as well as families and couples and booking is advisable, especially on busy Sundays where many local families decamp to the Ilha de Faro for sun, sea, sand and seriously good food. Average price without wine €35.00.
Camané
Avenida Nascente
Praia de Faro 8005-520
Montenegro
Faro
Algarve
Tel:+351 289 817 236