Faro's nightlife is a reflection of this charming Portuguese city's mixed heritage, an exciting combination of sedate eateries and lively bars, traditional entertainment and modern upbeat sounds. As a university city Faro has an active nightlife all year round, making it the perfect location not just for high-summer hedonism but also for off-season visitors looking for some evening action. Nevertheless, the city's nightlife is centred very much around the activities of its student population.
On warm summer nights Faro's streets are filled with the sounds of music and laughter as the young crowd spill out onto the cobbled pavements of the Rua Conselheiro Bivar and Rua Infante Dom Henrique and the narrow walkways that weave away from them. The Rua do Prior forms the centerpiece for this nightlife area and is home to some of the best-known clubs and bars in town.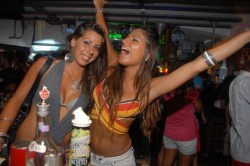 There are literally dozens of venues to choose from here, catering every musical taste and thanks to the student population prices are exceptionally reasonable for such a major Mediterranean destination. In many Mediterranean countries nightlife begins late and ends late, and Portugal is no exception.
Families, couples and friends often head out to eat during the mid- to late-evening, destined for a restaurant where they can sample the freshly caught delights of the local fishing industry. Once they have had their fill and relaxed over a strong coffee and digestif, they begin to head to the city's many bars at around 10pm and clubs from around midnight. There is no official closing time and it is quite common to see party-goers heading home in their finery as the sun rises in the East to herald another day on the beautiful Algarve.
For the young at heart, Thursday is generally considered the best night for the action – officially the city's student night, bars and clubs are busy from dusk until dawn and drink and club entry prices are generally lower than on weekends.
While the Old Town has traditionally been the heart of Faro nightlife, don't miss the city's marina area, especially in high summer, for some sophisticated fun against the backdrop of the water, salt flats and sandspits that characterize the coastline throughout this section of the Algarve.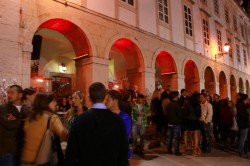 For a quieter and altogether more sophisticated evening, head to the Bar Columbus here on the Marina. Located in a historical building dating back over 500 years, it offers a sweeping terrace from which to admire the view whilst being served by friendly waiting staff amongst a well-heeled crowd.
Back in the Old Town, where you choose to spend your evening will depend on your age, your budget and your musical tastes. The Nippon Bar, on Rua Conselheiro Bivar, provides a great combination of restaurant and bar, where you can enjoy well-chosen up-to-date sounds with a good selection of tasty sushi. If cocktails and a Latin vibe are more your thing, head to the Havana Club on Avenida Nascente for some hedonistic hip-whirling and a cool caipirinha.
Still on the Latin theme, A Tasquinha O Cruzeiro in Praça Madalena is a great spot to gather with friends at one of its outdoor tables for some lively conversation washed down with a few jugs of the Tasquinha's speciality, sangria (try the white sangria for something a little different) or head to Cruzeiro, on Largo da Madalena for some tasty tapas. There are various jazz clubs dotted throughout the city – try Ovelha Negra, located on Rua do Capitão Mor, on a Wednesday night for some soulful jazz sounds and a lively, friendly crowd.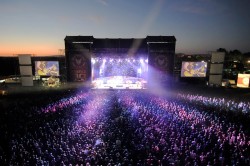 For some straightforward fun, Chessenta Bar on Rua do Prior is a popular congregating place for a slightly older but fun-orientated, beer-loving crowd. And if you feel sufficiently fuelled for a singing session, where better to finish your night than at O Conselheiro on Rua Conselheiro Bivar where Karaoke is the star of the show on a Wednesday and Friday night before the DJ takes over and the venue converts into a dance club until dawn.
Finally, for die-hard clubbers Dux is the name of the game. Located on Rua do Prior this is the city's most popular nightclub, popular with a young crowd but welcoming of anyone who comes armed with their dance legs at the ready. Here you can dance until dawn in the company of students, well-heeled locals and fun-seeking tourists, all on an equal mission to have fun, make friends and dance until they drop.