The Adega Nova Restaurant is one of Faro's best-loved institutions. Well located in the centre of Portugal's southern capital, it sits just two blocks from the beach and close to the train station, making it as easy to find as its food is easy to enjoy.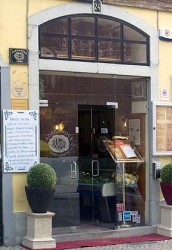 The Adega Nova is built in an old tile and brick warehouse yet has the look of a traditional Portuguese bodega. It was extensively remodelled over a five-year period by Carlos Graça with the aim of creating in Faro a unique destination for visitors from far and wide, and it appears that he has succeeded with his ambition.
Decorated in old-fashioned style with plenty of warm wooden furnishings and claddings, its roomy interior features a long bar and a series of long wooden benches, suitable for large groups through to intimate couples enjoying a quiet meal à deux.
The clientele is a mix of locals, visitors from the north and foreign travellers journeying to Faro from across the globe to enjoy the delights of Portugal's Algarve region. The seating arrangements make for a convivial atmosphere in which tables full of people often begin their meal as strangers and finish the night the best of friends.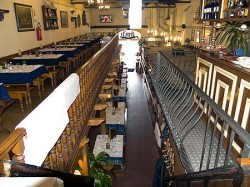 The restaurant specialises in serving traditional cuisine from the four corners of the country, using the freshest ingredients and tried and tested methods for creating some of the nation's favourite bites.
There is an à la carte menu containing a number of well-executed favourites such as monkfish and prawn skewers but the real treat is in the extensive daily menu, which features a collection of dishes selected largely on the basis of whatever arrives fresh on the day, cooked to order by the capable ladies behind the counter.
Pork, cod and seafood dishes feature heavily amongst the "pratos do dia" or daily menu and if you have an urge to sample some traditional bacalhau, or salt cod during your time in Faro this is a great place to do so. An extensive wine list features plenty of Portuguese favourites as well as some international offerings and prices for wine both by the glass and by the bottle are very reasonable.
À la carte dishes can be a little pricier but still represent good value, while a two-course meal for two selected from the daily specials, accompanied by a tasty bottle of national wine is around €40 – very competitive by Algarve standards.
Adega Nova Restaurant
Restaurante Adega Nova
Rua Francisco Barreto, 24
8000-344 Faro
Tel: +351 289 813 433
Email: info@restauranteadeganova.com
Open every day from 11.30 to 23.00