Visitors to Faro looking for an alternative culinary experience may be intrigued to take a trip out to Le Marquis Restaurant at Monte da Palhagueira Villages, Gorjões. Located in the converted stable buildings of an authentic seventeenth-century country house, or "quinta" the restaurant has been recently renovated to a high standard and offers a delightfully quirky yet homely ambience in which to enjoy a relaxed meal.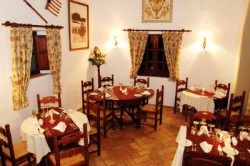 The restaurant is run by its new Dutch owners, Vincent van Dijk and Helma van Rossum who have a long history of running successful restaurants both in Holland and in Portugal. Vincent is both co-owner and chef and his love of food and desire to put the very best on his customers' tables is evident at every stage of the meal. Front of house is ably managed by Helma whose warm welcome and attentiveness ensure that her guests leave feeling more like her best friend than her customer, destined to return again as soon as their schedules permit.
Le Marquis Restaurant is one of Faro's favourite family destinations and never more so than on a Sunday lunchtime when they serve a traditional Sunday roast with all the trimmings and a selection of delicious freshly made desserts to an eager and appreciative crowd spanning several generations.
Throughout the rest of the week the restaurant is opening for set menu lunch from Wednesday to Saturday and for dinner à la carte from Tuesday to Saturday and can also be reserved in its entirety or a specific section for special events such as weddings, birthdays and christenings.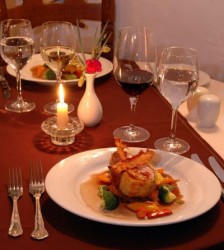 In a restaurant that continuously serves food of such high quality it can be difficult to choose standout dishes – you can taste the care and attention to detail that has gone into preparing the food with every mouthful. Meat lovers are guaranteed to swoon over the Black Angus Fillet Steak and the Spare Ribs while the Home Smoked Salmon and Smoked Scallops are a hit with seafood fans.
Helma and Vincent cater well for vegetarians too, with plenty to tantalize their non-carnivorous guests, all washed down with some delicious wines from their carefully chosen list.
If you are lucky enough to be in Portugal for major annual festivities such as Christmas or Easter, consider heading to Faro for a special meal at Le Marquis Restaurant. Its charming ambience and spectacular Table D´hôte menus make it the perfect choice for the making of some enduring gastronomic memories.
The lunchtime set menu costs €15.95 for two courses and €19.95 for three courses for 19.95 euros, offering plenty of choice for all tastes. À la carte prices vary and a table d´hôte menu is also available for pre-reserved parties of eight or more. Bookings advisable.
Le Marquis Restaurant
Monte de Palhagueira
Sitio de Gorjões
8005-488 Santa Bárbara de Nexe
Tel: 289 992 018
Email: o.marquesdapalhagueira@gmail.com
www.restaurant-le-marquis.com
Open for lunch Wednesday to Saturday
Open for dinner Tuesday to Saturday
Traditional Sunday lunch