Located in the heart of downtown Faro in Portugal, the Belle Epoque Restaurant is something of a hidden gem. Designed in homage to the golden age of beauty, innovation and peace, the décor and the food served delightful café and steak house epitomize all that the era stood for.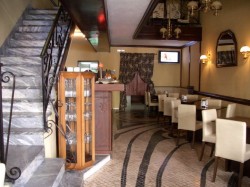 Its surroundings are not fancy, which could cause the Belle Epoque Restaurant to be overlooked by those not in the know, but ignore it at your peril. The key focus of the restaurant is on serving prime Argentinian beef along with a whole bevy of supporting acts that serve to make this an experience not to be forgotten.
Tanya, the co-owner manages the front of house to perfection, providing guests with a warm welcome and ensuring that her team of waiting staff are well informed about the items on their menu and the contents of the wine list. Tongue in cheek reports of waiters refusing to hand over menus because they prefer to share their insider knowledge of that day's star turn have surfaced for a reason – their recommendations are worth listening to.
Choose your meal well and stick to what the restaurant is best known for and you stand to eat a truly memorable meal at excellent value for money. The Argentinian Entrecote is legendary, served with tasty sautéed vegetables and crisp fries or try the Beef and Reef for a taste of the Faro coastline. The house speciality, Soup and Steak, is a jumbo portion and not for the faint hearted – loose clothing is essential if you want to get the best out of your meal.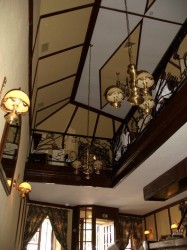 Southern Portugal is well known for its warm, welcoming atmosphere and this restaurant provides it in abundance. The décor is clean and contemporary with a golden age twist but the real charm is in the food and the friendly service by the waiting staff.
Sport TV provides a lively atmosphere for major matches and competitions and the restaurant offers Wifi throughout making it a suitable spot for a quiet coffee and surf at any time.
The Belle Epoque Restaurant might not be the first choice for vegetarian visitors to Faro but it is a carnivore's delight. Prices are reasonable, particularly given the huge portions served here. House wine is served by the glass at €2.50, the Soup and Steak dinner is €15.00 per head and a meal for two with tapas starter, a bottle of wine and two mains comes comfortably within €50.00.
Belle Epoque Restaurant
Av. Da Republica, 88
8000-079 Faro
Portugal
Tel: 289829416 / 917812306
www.restaurantebelleepoque.com
Open from Monday to Saturday from 09.00 until 02.00
Closed Sundays