Visitors are well catered for with grand restaurants in Portugal's Algarve region, with many large restaurants offering international favourites to a backdrop of sweeping views across the Atlantic. But if you are in the mood for something a little different, head to Republica Restaurant for an evening of Portuguese fun, frivolity and a feast of the tastebuds.
Republica Restaurant is set in a city centre location close to the marina, sandwiched between two of central Faro's favourite hotels, the Hotel Eva and the Hotel Faro. This cosy "cantina" offers a compelling antidote to gastronomic grandeur, seating just 28 diners. The décor is fun and fresh, featuring plenty of blue and white ceramic tile and moulded wood finishes, capturing the full feeling of southern Portugal within its four walls.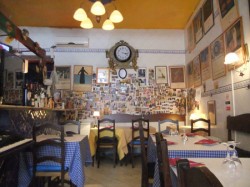 A stool at the well-stocked bar provides an inviting starting point for an aperitif of port wine before taking your seat at one of the tables dotted higgledy-piggledy in the small interior.  The staff are friendly and helpful, eager to make suggestions for food and wine to make ordering easy and help you get the most from your meal.
The menu focuses on traditional Portuguese cuisine, featuring a number of favourites from Faro and across the Algarve, yet there is a distinct freshness and modernity to the dishes too. Unsurprisingly for an area so focused on the sea, fish and seafood are prominent. Favourites include delicious grilled squid stuffed with fresh prawns, smoked anchovies, prawn and spinach tartlets and a rich fish stew full of the flavours of the Altantic sea.
Meat lovers are well taken care of too, with the duck tartlets, roast beef and steaks proving very popular. Don't miss the fig tart and home-made ice creams if you have room left for dessert at the end of your meal.
There is an extensive wine list featuring well-chosen bottles from across the country at extremely reasonable prices so it is well worth choosing a bottle to accompany your meal.
The city centre location makes the Republica Restaurant the perfect spot to finish up a day of sightseeing in the Old Town of Faro, giving a real taste of the sights, sounds, smells and tastes of southern Portugal.
Bookings are advisable given the size of the restaurant but it is well worth making the effort. Average prices for a meal for two with wine are around €40.
Republica Restaurant
Avenida da República, 40
8000-079 Faro
Algarve
Portugal
Tel: +351 289 807 312
Open Monday to Sunday for dinner and Monday to Friday for lunch.