Algarve is more often than not a depiction of fun, entertainment, and nightlife diversion. Albufeira, the capital city of tourism located in the central region of Algarve, Portugal, is no exception and might as well be the best thing around when it comes to staying all day sunbathing at the beach or exploring Albufeira's surroundings, and later, of course, having the most amazing night out of your life.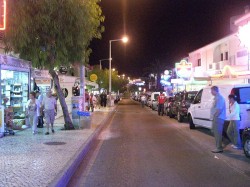 Better known by tourists as The Strip, the far-reaching avenue, which real name is Avenida Dr. Francisco Sá Carneiro, connecting Montechoro and Areias de Sao Joao. Although the division has not been set by a physical barrier, besides a cross-walk in the middle of the avenue, the Montechoro Strip (north side) and the Albufeira Strip (south side) are quite different.
The Albufeira Strip is bustling with crowded bars, restaurants, shops, tattoo parlours and other incredible and fun venues, packed in next to each other and boasting some colourful, lively neon signs identifying the places from far ahead; the Montechoro Strip is somewhat calmer than the latter, featuring a few different stores and more gardening and green areas.
For those visiting Portugal and the Algarve region in search of some fun and the startling Albufeira nightlife, one suggests you choose the Albufeira Strip as your guiding light throughout the night — literally.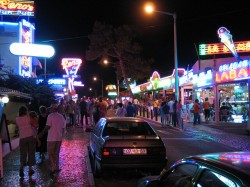 Its popularity has spread amazingly mainly because of holiday makers coming from the UK and Germany, but other nationalities as well, who are always looking for some crazy fun at themed pubs, cheap drinks, and partying all night long.
Most of bar owners at the Albufeira Strip are usually ex-pats and you will definitely make you feel at home straight away while enjoying a drink and a nice, friendly chatter. Make sure you come in at happy hour time to fully enjoy the Strip without spending that much money.
There are a number of wonderful restaurants across the Albufeira Strip and the Montechoro Strip as well, spanning between fancy, internationally-inspired places and laid-back, more cut-rate restaurants. However, the bars will surely leave you wanting to come back for more.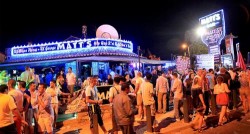 Wild & Co., for instance, is one of the main choices amongst Albufeira holiday makers, boasting a lively indoor environment and a knack for themed parties and events. Its peculiar mix between an Irish Pub and an American saloon gives the Wild & Co. a unique trait that can only be seen in Albufeira nightlife.
Matt's Bar, Mickey Boons, Patcha Cocktail Bar, Zoo, Sultan Bar, and Café del Mar are also other very popular and coveted bars in the Albufeira strip, as well as the Kiss Club, one of the most well-known nightclubs in Albufeira.
If you are travelling with friends or are simply into this kind of nightlife, make sure you get a taste of what it feels like having a good time in the Albufeira Strip.