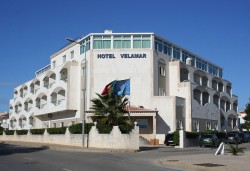 Olhos de Agua is a small fishing village in Albufeira, a very sought-after city in the Algarve region, Portugal, so its location says it all. Velamar Hotel is a 3-star accommodation venue located right in the heart of this village and has been attracting a lot of travellers mainly for its classic yet somewhat modern style and amazingly welcoming staff and facilities.
If you are thinking of visiting Albufeira and its surrounding villages for the summer, bring your family along and book yourself a room at the Velamar Hotel, where all your needs and wishes will be attended with a smile.
In order to provide guests with different choices and services, Velamar Hotel offers 75 rooms, of which 55 are doubles, 18 are twins and the remaining two are suites, all equipped with complete bathroom, air conditioning, mini-bar, safe deposit box, direct telephone, double glazing windows cable/satellite TV, as well as a modern decoration with classic details.
Your meals are never the same when a restaurant features a panoramic Atlantic Ocean view, which is the case in Velamar Hotel. A continental buffet breakfast that includes bread, juice, eggs, cold meats, cheeses, jams, croissants and other lovely products, accompanied by a stunning view over the sea, is definitely a great way to start the day before hitting the beach or go sightseeing around the village.
There is also a bar on the ground floor of Velamar Hotel, which will add up to your day as you sip on your favourite cocktail, read, watch TV or even catch up on your emails and social networking thanks to the free Wi-Fi.
Hotel facilities include an outdoor swimming pool for adults and children, a snack bar, conference room, a health centre, and also bicycle rental services so you can go and explore the nearby beaches, such as Maria Luisa Beach and Olhos de Agua beach, which are more or less 1 km away from the hotel.
If you would prefer to venture off and get to know more of Albufeira and even the coastal area of the Algarve region, the Velamar Hotel provides guests with a car rental service, which is certainly the best way to discover all these beautiful places.
Prices can start at € 90 per night and per person, depending on the season, with half board option.
Velamar Hotel
Torre da Medronheira
Olhos de Agua
8200-635 Albufeira
Algarve, Portugal
Tel: +351 289 590 100
Fax: +351 289 590 109
Email: mail@velamarhotel.net
www.velamarhotel.net