Strolling down the famous pedestrian strip in Albufeira, one of the most popular holiday destinations in the Algarve region, you will surely find Invictus Restaurant, a serious case of lovely food and over-the-top staff with a rich menu filled with international cuisine and gourmet-inspired dishes.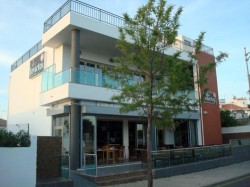 Invictus Restaurant is definitely more than just that: the ground floor welcomes you with the bar and its varied range of cocktails, shots, and beers, so you are able to visit and stay without having a meal. However, we certainly recommend you do the latter during your stay in Albufeira, better yet, both.
In addition to this wide variety of drinks, the Invictus Bar also features a snack bar menu with burgers, salads, sandwiches and other options, including vegetarian light dishes, for your enjoyment. The bar, as well as the rest of the restaurant, boasts a modern look & feel with contemporary details, and overall a truly elegant place where you can effortlessly feel comfortable and at ease.
The menu features a fine range of choices, from fish to meat, all with a gourmet feel to it, though portions are good enough to leave you pleased and content with the dish you have chosen. Try not to forget to ask for the specials, as they are a great option for your belly and your wallet as well: you can easily have a decent meal—starter, main course, dessert + a glass of wine or beer or water—for about € 15 (it is best you confirm this price at the restaurant, as prices may change without notice).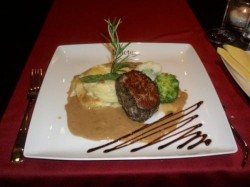 The cosy atmosphere with a stunning view over the strip and the ocean might as well be one of the main reasons for a wonderful experience at Invictus Restaurant, so make sure you book a table beforehand to ensure the best seats are yours.
Opt for a vegetable soup for a starter, accompanied by garlic bread, followed by a beautiful Pepper steak with sautéed potatoes with onion, broccoli, green beans, and carrots. Top it off with an Apple crumble with ice cream and a glass of regional red wine and you will be set for the evening.
Invictus Restaurant provides you with a meal you will not forget, but come in at the right nights and you will also find Bingo Nights, Quiz Nights and even Dance Lessons, which comes to prove that entertainment is key. Also, you will be able to do a little check up on your emails or social networks with their free Wi-Fi.
The welcoming, effective and caring staff will surely give you even more reasons to come back, or perhaps the giant flat screens broadcasting your favourite sports and news channels in the basement will help you keep up-to-date with what is happening in the world—but do not let it get in the way of a perfect holiday in Albufeira.
Invictus Restaurant
Rua Jose Fontana 10
Areias de Sao Joao
8200-295 Albufeira
Algarve, Portugal
Tel: +351 289 589 082
Email: invictusoura@gmail.com
www.facebook.com/invictusalbufeira