As much as it happens in the Algarve region, and even in other regions of Portugal, Albufeira is bursting with ancient monuments and, of course, churches that tell a little bit of this city's story through their walls, their ceilings, their large doorways, their architectonic style, and their visible influences.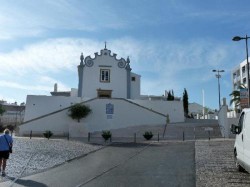 Given its wonderful weather conditions, Albufeira is one of the most significant and coveted tourist destinations for holidaymakers coming from around the globe. However, and although this is definitely true and accurate, one must not confine Algarve's beauty and splendour to just the abundance of sun and sea.
This lovely coastal region of southern Portugal is home to centuries of old Moorish constructions, museums, churches, and historical landmarks that somehow were able to survive for centuries on end.
Chiefly directed to sunbathing lovers, food aficionados and nightlife seekers, Albufeira is definitely more than just this, and the old town comes to prove it with stories from the past and beautiful cultural sightseeing.
Built in the 18th century, the Sant'Ana Church is one of these monuments that deserve a visit to dignify its past, deeply rooted to the Algarve's historical background. The Sant'Ana Church is a tiny epitome of what a church usually looks like, but no less a wonderful work of architecture.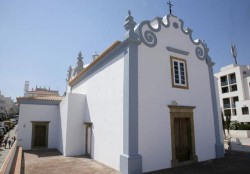 The ceiling's intricate pattern and the surrounding pinnacles contribute for a strong belief that it is part of the popular architecture traits. The Moorish influence on the Sant'Ana Church, although built centuries after the Moorish domination, is also visible in the white-washed cupola, one of the most coveted details of this ancient church.
Located in the Largo Jacinto d'Ayet, in the old town of Albufeira, the Sant'Ana Church was submitted to recovery works in 2008, after eight months of restoration. Even at that time, the Sant'Ana Church was considered to be a landmark in the capital city of Portuguese tourism, reminding that its beauty has been the centre of attention when speaking of the region.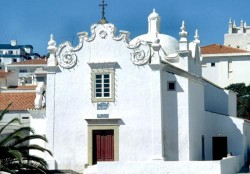 There is a greater importance in preserving such a lovely monument as the Sant'Ana Church, which included the recovery of the entire gilded woodcarving on the main altarpiece, of the two side altarpieces, of the pulpit, several figures, and other details in need of recuperation.
Also, the entire roof was replaced and the exterior of the Sant'Ana church was painted all over, which showed off to be one of the best recovery works in the village.
The church is available for visiting, except during service, and accounts for an interesting, lovely trip around the old town to get to know important buildings and monuments such as the Sant'Ana Church, a well-worth visiting landmark of Albufeira, in the Algarve region, Portugal.