With some of the loveliest year-round weather conditions, as well as vast greeneries and premium resort hotels that take advantage of such characteristics, it is no wonder Albufeira is considered to be one of the best places for top-notch, well-known golfers to indulge in memorable golf sessions and championships.
Whether coming from Portugal or abroad, golf lovers find Albufeira to be a most peaceful and quiet venue for their golfing needs and requirements, adding up to the overall ambiance felt at this wonderful Algarve city.
Salgados Golf Club
Located in the far western point of Albufeira lies the Salgados Golf Club, a 18-hole lagoon-based venue, which are well-balanced, as both halves of the path carry two par 5 holes with approximately 500 metres and two par 3 holes with over 170 metres, therefore completing a par 72.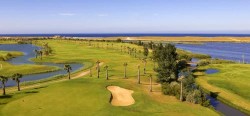 It is set on a flat land behind a sandy beach, relatively exposed to natural elements with little vegetation, thus challenging and keeping it interesting in terms technical skill and difficulty in obtaining a good round.
The Salgados Golf Club is part of the CS Hotels, Golf & Resorts group and was brought into life in 1994 by the hands of architect Pedro Vasconcelos. The unique scenery offers golf players a one in a lifetime experience, given that the course is also the home for a number of bird species, some of which are becoming extinct.
For golf lovers, the yellow tees deliver a good, satisfying round. If, however, you are in the mood for something more stimulating, the white tees are a decent option, although advised only for single-digit handicaps or professionals.
Refer to the Salgados Golf Club website for discounts, score cards, course layout, calendars, and other significant information.
Pine Cliffs
Between Albufeira and Vilamoura, in Falesia Beach, Pine Cliffs golf course make their best to continue to be a much sought-after venue for golf lovers and everyone interested in playing golf in Albufeira and its surroundings due, of course, to a number of wonderful conditions.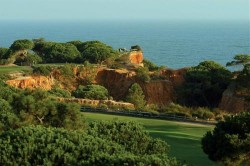 Designed by Martin Hawtree, of Hawtree & Son, the same that designed the Carregueira golf course, Pine Cliffs offers a stunning view over the cliffs and the sea. Belonging to the Sheraton Algarve Hotel, this incredible golf course was inaugurated in 1991 and it still continues to be a reference when it comes to golfing in Albufeira.
Its 68 hectare extension is a beauty to the eyes and usually the main reason for golf lovers from all over the world to come and soak up this amazing golfing experience. Pine Cliffs golf course is indeed one of the most original courses in the country, as it was created amidst a pine tree forest, with fairways lined up by trees and ecological concerns in mind.
The jewel of the crown in this course is the sixth par 3 hole. The championship tee, known as Devil's Parlour, was built over a ravine that demands a 198-metre stroke over the cliffs so that the ball gets to the deepest, narrowest green.
Refer to the Pine Cliffs golf resort website for discounts, score cards, course layout, calendars, and other significant information.
Balaia Golf Village
Located halfway between Albufeira and Olhos de Agua lies the Balaia Golf Village, a small yet attractive 9-hole course par 3, which is ideal for practice or initiation of the sport. Founded in April 2001 by Southern Golf, this gorgeous golf course shows off amazing views over the ocean and vast greeneries and trees.
The undulating fairways at Balaia Golf Village are alluring for any kind of level handicap, which is of course paired up with the first-rate condition of the greens.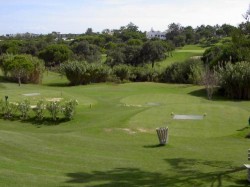 With holes ranging between 58 and 160 metres, the Balaia Golf Village offers a challenging set of rounds to golf lovers who wish to feel challenged by such course, which demands a high ability to control shot length and direction.
The Golf Academy is actually the gem at the Balaia Golf Village, a place for specific training at various levels, always supervised by professionals accredited by the PGA. Driving ranges, where golfers can practice their swing, and Putting and Chipping Greens also contribute for this academy's success.
Refer to the Balaia Golf Village website for discounts, score cards, course layout, calendars, and other significant information.