Originally built as a Moorish stronghold during the period of the Almohad dynasty, the Paderne Castle is believed to be one of the seven original castles to occupy the shield of the Portuguese flag, which has kept its heraldic significance until today.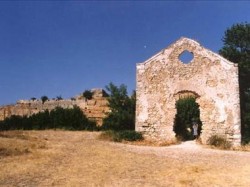 The Paderne Castle is located on the left bank of the Paderne river stream, in Albufeira, Portugal, and was conquered in 1248 by D. Paio Peres during his campaigns through the south region of Portugal.
Around 1300, king D. Dinis donated the castle to the master of the Order of Avis, D. Lourenço Anes, as an attempt to make it a viable economic centre. However, from the 16th century on, the castle begins losing its strategic significance and even the population is relocated to where they live to this day.
In spite of reconstruction attempts throughout the years, the Paderne Castle has been slowly degrading and only a few important parts are left, a destruction that was increased by the 1755 earthquake.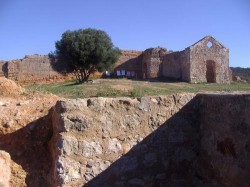 However, the Paderne Castle is still a very good example of military architecture, as well as the prominent squared-planed tower, which accounts for a nice stroll around its vicinities. The castle is built on a large, stiff hill, which is enclosed by the valley of the Quarteira River.
Currently, the Paderne Castle is classified as a Monument of Public Interest and what remains of it is still being submitted to maintenance works. As part of the Recuperation of the Castle of Paderne, under a PROAlgarve program, archaeological excavations were carried out and unearthed remnants of roadways and dwellings within the castle compound, as well as fragments of a sophisticated sewage system and a water supply network.
The Ermida de Nossa Senhora da Assunção is also part of the Paderne Castle, that is, it is located within the perimeter of the ancient stronghold and has been also deactivated since 1858. Nowadays, one can only observe the main walls of this ancient temple and it will most definitely not be recovered or rebuilt.
The Paderne Castle is actually seen from the Algarve's A22 motorway, about ten kilometres inland from the coast. From afar, this is an absolutely impressive site and visitors are able to see the main construction building as well as the outcome of the archaeological excavations that dig up the water cistern and sewage system.
The Paderne Castle is easily reachable, as it is located about 2 kilometres away from the village of Paderne, one of the civil parishes of Albufeira, and an 82-kilometre drive from the city centre of Albufeira itself.
Being a Monument of Public Interest, it is certainly one of Albufeira's derelict yet admired landmarks which have carved an important part of Albufeira's history in the collective memory of all inhabitants.