If you are thinking of visiting Albufeira, particularly during summertime, and are dying to embark on a true Portuguese food experience, do not look any further and pay a visit to Tasquinha do Rossio, one of the most sought-after restaurants in Albufeira, Portugal, because of mainly one thing: fish rodizio.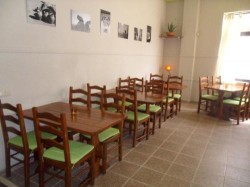 Located in the beachfront area of the old town, A Tasquinha do Rossio is definitely all that is cracked up to be: amazingly friendly staff, beautiful fresh food, and a great atmosphere, with locals and tourists spontaneously mixing and mingling.
A Tasquinha do Rossio is a small place with just a few tables and a simple decoration, with green being the prominent colour. You can easily sit inside or outside, as both sittings will provide you with different yet lovely experiences all the same. It is strongly advised, however, you book a table at least two days prior to your visit or you risk missing the chance to taste their delicious grilled fish.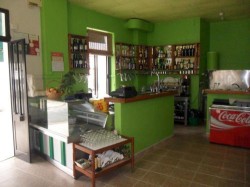 The menu is roughly written on a blackboard and is therefore limited to a few starters and mains. Do not be put off by this, as what counts here is the quality and not so much the quantity. Go and try the fish rodizio for € 12, for which the restaurant is well-known across Albufeira and the Algarve region.
As for starters, the crab pate is usually a must-try for everyone who visits A Tasquinha do Rossio, followed by some lovely, char-covered grilled squid.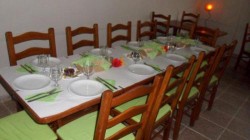 The fish rodizio features a grilled salmon steak, followed by the mackerel, the sea bass and the sea bream. All of this is served with potatoes and a tomato salad with onion and oregano, very typical in the Algarve.
If you are in the mood for meat, A Tasquinha do Rossio also features a few meat dishes, which are also grilled to perfection. Try the steak or the grilled chicken, which is usually cooked to perfection and beautifully seasoned.

Summer is always a wonderful time to enjoy deliciously fresh food in such a warm and fun place as A Tasquinha do Rossio, particularly if you are seated outside and take advantage of the opportunity to engage in a little people-watching over a tasty meal.
A Tasquinha do Rossio
Rua Dr. Santos Silva 58
8200-123 Albufeira
Algarve, Portugal
Tel. +351 964 063 481
www.facebook.com/ATasquinhaDoRossio