Founded in 1995 in the heart of the old town of Albufeira, in the Algarve region, Portugal, Cabana Fresca Restaurant is hailed by many as one of the best places to sit back and enjoy a wonderful meal in the city.

The specialties in Cabana Fresca Restaurant are of course fish and seafood, and it is pretty easy to figure out why: the amazing beachfront location writes the tale for this popular restaurant with the sound of the waves as background music.
One of the many features that makes Cabana Fresca Restaurant stand out from other restaurants in the old town is definitely the terrace overlooking Fisherman's Beach.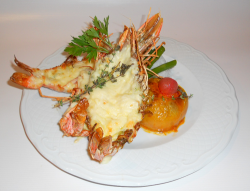 This obviously adds up to a lovely meal in the summer, although it is not a problem in the winter, as the owners provide heaters for guests to fully enjoy the epicurean experience at Cabana Fresca Restaurant.
Start your evening off with a delicious cocktail at the bar while you are waiting for your table to be ready. Long Island Ice Tea, Pink Butterfly or even a Cosmopolitan are a few of the options on the list, but there is much more to keep you going.
For starters, one would recommend a Vittore Carpaccio, which is fine sliced veal with pesto and Italian cheese, or Camarão à Pescador, delightful prawns fried in olive oil with onion and garlic, a typical dish in the Algarve region.
As main courses, the specials are always a great choice, so do not forget to ask for the specials menu. Fish & Shellfish Cataplana or Seafood Rice are two of the most sought-after dishes, but make sure you ask for this menu, even if they do not give it to you right away.
Though fish is clearly the lead character here, meat dishes are another important part in the menu of Cabana Fresca Restaurant. Chateaubriand steak and Fine Filleted Pork are also an often request at this restaurant in Albufeira.
The perfect way to finish a meal is to polish it with a delightful dessert. Parfait de Grand Marnier, Chocolate lasagne with Porto wine syrup or Île flottante are all sublime choices and usually made in-house.
The cherry on top is surely the wine selection and Cabana Fresca Restaurant knows how to handle the amount of wine choices extremely well. Ask for their suggestion or opt for one from Algarve or Alentejo.
Cabana Fresca Restaurant is a magical place that will surely make you return for more for a lot of great reasons: the food, the utterly welcoming and friendly staff, the good value for money (a complete meal may reach € 25 per person), and the best location of all.
Cabana Fresca Restaurant
Travessa Cais Herculano 9
Fisherman's Beach
8200-061 Albufeira
Algarve, Portugal
Tel: +351 289 585 456
www.cabanafresca.pt