Open for seven years now, the Albufeira Marina is considered to be one of the safest, most well taken care of marinas in Algarve, perhaps even Portugal. The Albufeira Marina features approximately 480 moorings for all classes of nautical recreational vessels and provides all the required facilities to support quality services, as well as a Nautical Club built over the waterside setting.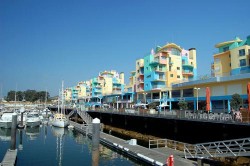 The Albufeira Marina is part of a premium tourist complex that includes hotels, restaurants, bars, shops, swimming pools, villas and a leisure centre. The boat yard has a 70-ton "travel-lift" for vessels with a breadth of up to 6.7 metres, a 6-ton hoist-crane, eight repair booths and four bigger workshops to carry out large-scale repairs.
This renowned marina enjoys a stunning location and boasts all the necessary requirements and conditions to keep it under the ISO 14001 certification under Environment Management Systems. This was one of the top priorities from the onset of its construction, in order to keep the low level of environmental impact.
The Albufeira Marina has already been granted with a number of awards, including the European Blue Flag in 2011 and five Gold Anchors Awards of the Yacht Harbour Association and British Marina Federation.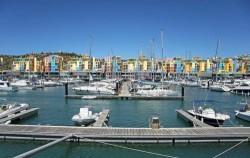 The Albufeira Marina features two resort luxury hotels with a total of 590 rooms, as well as an apart-hotel with 75 apartments, a village resort of 220 apartments and several pedestrian paths and bicycle routes. In addition to the commercial facilities, the Albufeira Marina is a wonderful place to take a stroll and soak up the amazing view of endless nautical vessels of every dimension possible over the water.
One of the most singular features of the Albufeira Marina is, however, the candy-coloured apartments painted in lively blue, pink, orange, green and yellow squares. The rows of shops, restaurants, and bars bring life into the waterfront, ending up as a wonderful place to take a walk with your family.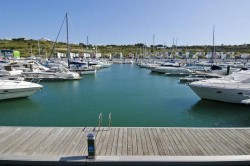 It is also possible to watch local fishermen going about their daily business at the fishing port, just around one of the corners of the Albufeira Marina, a lovely sight for those who just love to do a soak in the typical livelihood of Albufeira residents.
There are a number of water activities you can indulge in from the Albufeira Marina: Jet Ski rental, Rocket Speed Boat rental, Para-sailing, Dolphin Safaris, Yacht Charters rental, sunset boat trips and big game fishing trips, all of this for those who love water sports and more adventurous activities while in Albufeira, in sunny Algarve.
Just 30 minutes away from the Faro airport, the Albufeira Marina is a fast-growing destination of choice for many holiday makers in search of a more luxurious lifestyle.