For those who enjoy horse riding on a daily basis and do not feel like giving up this passion, Albufeira is definitely the place to go, as it offers a couple of places to engage in a few riding sessions.
However, if you are inexperienced or just feel like showing your children a good time amidst nature, there are a number of options as well. When in Albufeira, Portugal, feel free to take the most from it and enjoy every little bit of your vacation.
Albufeira Riding Centre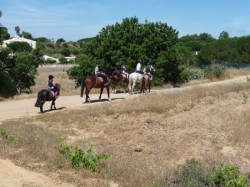 Albufeira Riding Centre, or Vale Navio, is a popular horse riding centre amongst local residents and tourists in search of something different than the hustle & bustle of the city centre.
Located just outside Albufeira, amidst the stunning countryside just far enough to enjoy a whole other scenery, the stables are easily reachable by car or by taxi. The owner, Georgie, will welcome you into the Albufeira Riding Centre and introduce the horses, the paddocks, the horse riding tours, and every other bit of information you might need to begin your tour.
Prices can range between € 30 for an hour of trail ride, € 50 for two hours or € 70 for a three-hour long beach ride. The ride is usually fun and gives you the opportunity to soak up the lovely outback of the Algarve. Georgie usually escorts the trail ride and gives off significant and interesting information on flora & fauna, history, and advices on the guests' riding.
Algarve Riding Centre was picked up by George 16 years ago and since then has become one of the best and most complete horse riding centres in the Algarve. She is a British Horse Society qualified instructor and used to compete in England and Portugal as well.
Her love and knowledge towards the horses and the time she spends taking care of them and improving the centre is proof that the Algarve Riding Centre is well taken care of, and will continue to be for many years ahead.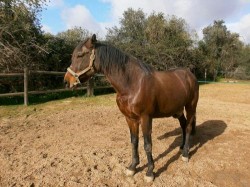 The stables are set in approximately five acres of land and are somewhat small, although not terribly so. There are more than a dozen paddocks where the horses are turned out and a yard with stables, tack room and reception.
The horses are healthy, muscular and full of energy, yet very peaceful and well-schooled. There are about sixteen horses and ponies wandering around the stables and all of them have a name, which makes the whole experience a little more intimate and friendly between visitors and horses. If you would like to experience a livelier ride and go for cantering and/or galloping, we suggest you take on the three-hour ride across the beach. It will be well worth it.
TopHipico Algarve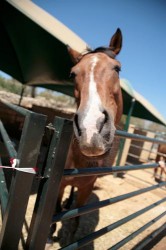 A little bit farther from Albufeira city centre and into the countryside of the Algarve region is the TopHipico Algarve, a horse riding centre well-known for the quality of the stables and its horses.
TopHipico Algarve is a private livery yard and riding centre offering a variety of services from beginner lessons or pony walks to advanced lessons for experienced riders.
The stunning countryside is certainly one of the best reasons to visit this riding centre, in addition to the chance of riding and getting to know a bit more about the so-called "real" Algarve, far away from the hustle & bustle of Albufeira's city centre.
At TopHipico, all stables have individual paddocks with extra space for horses to enjoy and keep themselves healthy and happy. The year-round nice weather also contributes for their seemingly joyful life at the stables, which feature a high roof for better air circulation.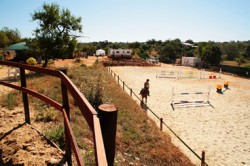 All lessons and trail rides are supervised by qualified riding instructors, who also provide riders with all the technical and practical advices needed, and can be performed by all levels and all ages, from beginners to advanced riders.
The TopHipico location allows for the visitors to explore the beautiful countryside of the Tunes area, which is about 11 km away from Albufeira, and therefore well into the wildlife and rural outskirts.
There is also a store where you can purchase horse riding material and equipment, as well as supplements, food, and overall a wide range of products both for the rider and the horse. As for prices, the website only lists monthly prices, so one would advise you to contact the TopHipico centre directly to get a full price list.