The Palacio da Bolsa is the old stock exchange building in Portugal's business capital, Porto. Built in the 19th century by Porto's Commercial Association, it is a fine example of neoclassical architectural styling and sits right in the heart of the city's UNESCO-designated World Heritage centre.
Located on the Rua de Ferreira Borges, the Palacio da Bolsa is found right next to the Igreja de Sao Francisco, the old Franciscan church that was once linked to the St Francis Convent before the latter's destruction by fire in the early 19th century. Following the fire, the remains were donated by Queen Mary II to Porto's merchants, who dedicated it as the home of the Commercial Association.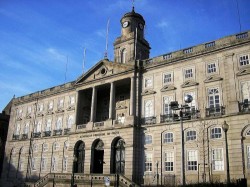 The Association commissioned the building from one of Portugal's leading architects of the time, Joaquim da Costa Lima Junior, and the main building was completed by 1850. Further architectural details were then taken on by several architects, including Gustavo Adolfo Goncalves e Sousa, who completed the stairway and the Arab Room, Tomas August Soler, who was responsible for the metallic dome in the courtyard, and Joel da Silva Pereira, who took on the Tribunal Room and other areas.
Soler's courtyard dome is a remarkable construction, forming a huge octagonal shape and decorated with Portugal's coat of arms, along with the coats of arms of the countries with which it had commercial relations in the 19th century. Meanwhile, Goncalves e Sousa's staircase, which leads to the building's upper levels, is adorned with sculpted busts by leading artists, ceiling frescoes painted by Antonio Ramalho and two large bronze chandeliers hanging from the cupola.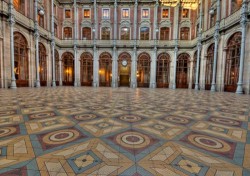 The Tribunal Room, Assembly Room and Golden Room each showcase lavish artworks and furniture designed by Joao Marques de Oliveira, along with sculptures by Teixeira Lopes. It is the Arab Room, however, that stands out for its sheer glamour and opulence. The work of Goncalves e Sousa, the Arab Room was built between 1862 and 1880 and is lavishly decorated in exotic Moorish revival style, clearly inspired by the great Alhambra in Granada.
The Arab Room was designed to impress, and impress it certainly does. To this day, it is used for important events on the Porto calendar, as a reception hall for important visitors from the far corners of Portugal and heads of state from countries even further afield. Everything about the Arab Room is grand and over the top – evidence if it were needed of the 18 years that went into designing this single, remarkable space.
Although the quality of the guides can be a little hit or miss, most are friendly, helpful and well informed. Booking is not required, but the building is a popular sightseeing destination so it is worth being prepared to queue for your turn in high season.
Palacio da Bolsa
Rua Ferreira Borges
4050-253 Porto
Tel: +351 223 399 000
Fax: +351 223 399 090
Email: correio@cciporto.pt
www.palaciodabolsa.pt