Arriving at an airport in a foreign country can be a daunting prospect, especially if you have had a long journey in order to get there. How pleasant your experience is on arrival can set the scene for your entire stay, so it helps to know a little about how you can get from the airport to your accommodation before you travel, in order to avoid any unnecessary stress along the way.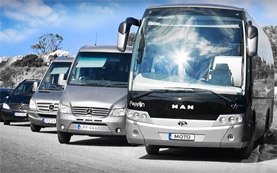 Thankfully for visitors to Porto, Portugal, the city's international airport is well connected for onward travel into the city centre and beyond, ensuring your journey is trouble free from the moment you arrive.
There are many different options for Porto airport transfers, from private vehicle hire with driver to local bus services. Many business travellers or those visiting Porto with a decent budget and perhaps limited time, prefer to take a private transfer. These are available from a number of airport taxi providers and are either pre-bookable via private hire firms on the internet, or available through taxi rank services outside the airport terminal.
Google "airport transfer Porto" or "Porto airport transfer" and you will find a number of options with reputable service providers. Expect to spend around €50 per car to take four passengers with average luggage, or more for premium vehicles or those with the capacity to carry more people. If you are travelling to Portugal in a larger group, it is even possible to organise minibus or coach transfers for your Porto airport transfer.
Airport transfer Porto options are not limited to private vehicles, however, and with the city centre located just six miles from the airport, there are a number of more cost-effective options if you have the time or are travelling on a more limited budget.
Porto Airport is connected to the city centre by metro (purple line), as well as by bus. Local bus services run along a number of routes, stopping along the way, while the Aerobus shuttle runs every 30 minutes along a direct, non-stop line between the airport and the centre of the city. For those with the spirit of adventure, car hire is a great choice for getting about, opening the gates to explore the surrounding areas of hillside and coastline and making the most of your trip to Porto, Portugal.