Porto's Parque da Cidade has the honour of being the largest urban park in Portugal. Covering some 80 hectares, it is filled with a wide variety of flora and fauna through a series of changing landscapes, some manicured and others wild and natural.
The Parque da Cidade was planned as long ago as 1960, however it was only opened to the general public in 1993. Despite its relative modernity, its styling takes into account a wide range of influences from all over Europe, from the 17th century right through to the present day.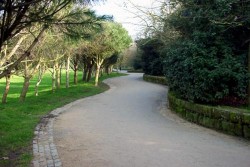 The park is the brainchild of landscape architect Sidonio Pardal, who has drawn on his vast experience and wide remit to create a space of true architectural sophistication.
The area is filled with lakes, manicured lawns, small groves of trees, water features, lush vegetation and natural stonework, all interspersed amongst other populated areas of the city.
The Parque da Cidade is effectively the artery that joins Porto with the Atlantic Ocean to the west, stretching out to the coast with one hand and reaching right into the heart of Portugal's second city with the other. It was completed in two phases, the first in 1993 and the second in 2002, and it was the latter that incorporated the maritime frontage on the shores of the great Atlantic.
The park is a fine example of a project that has embraced tradition within a modern setting. Modern and traditional engineering and construction techniques have been used to create an environment that is sensitive to the natural arena in which it sits.
The result is a charming setting with plenty of natural features, yet one which beneath the surface harnesses technology, with drainage and rainwater recycling systems, for instance. The park was named in 2000 as one of the 100 most important constructions of the 20th century in Portugal.
If you are in Porto during high season, it is well worth bringing a picnic and spending a full day simply meandering through the pathways and identifying the many species of flora and fauna which call it home. Wild ducks, swans, geese, chickens, fish, frogs, toads, rabbits and reptiles are all found comfortably coexisting within the park's unique ecosystem.
If flowers, trees and shrubs are more your thing, there is plenty to keep you occupied if you set out to identify the 74 species of trees, 42 plant species, 15 varieties of fruit trees and 10 aquatic plant species, amongst the tens of thousands of examples on display in this delightful natural area.