Restaurants in Porto, Portugal are as diverse as the fascinating, cosmopolitan city in which they are located. Visitors will be spoilt for choice no matter what their taste, budget or location – traditional eateries tucked away in the narrow streets of the historical old town, contemporary cafes serving all manner of delicacies and cutting edge restaurants serving gastronomic delights.
Restaurants in Porto are located throughout the city – in the rambling old town, down on the popular Ribeira, across the waters of the Douro on the Cais da Gaia and out beyond the greenery of the Parque da Cidade on the sandy beaches of the Atlantic Ocean.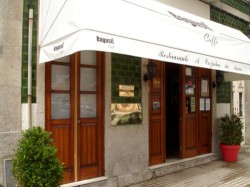 Portugal is famed for its fish and seafood, with salt cod, prawns and other shellfish a firm favourite with locals and visitors alike. Thanks to its proximity to the sea, fish and seafood specialities feature strongly on Porto menus.
Book a table at A Cozinha da Maria to sample some of the finest traditional dishes in the city, including grilled squid, octopus fillets and a tasty seafood grill. A Cozinha da Maria has been a firm favourite in Porto for more than a quarter of a century and combines stylish décor with a relaxed and comfortable vibe for memorable Porto dining.
For traditional with a modern sparkle, opt for DOP Restaurant. It doesn't come cheap, but food at DOP Restaurant is the stuff that holiday dreams are made of. The menu is bursting with rustic dishes cooked in the most sophisticated of manners.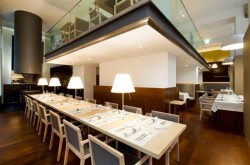 Sample the Tripas a Moda do Porto or Codfish Gomes de Sa, or opt for the sushi specialities, carefully prepared using the freshest of exotic seafood and fish.
Restaurants in Porto often combine seamlessly with the arts, with many of the city's leading eateries connected strongly with galleries, art schools and local artists and designers. Giroflee Restaurant is no exception. Located right in the heart of the Ribeira district, Giroflee Restaurant serves fine food with a modern and experimental edge, in a dining room which doubles as a highly popular painting gallery.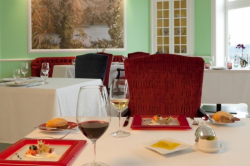 Discover the art of fine wine across the waters on the Cais da Gaia at The Yeatman. If you are looking for a meal in which food and wine take equal billing, The Yeatman is the place for you.
When you feel the need to escape the hustle and bustle of the busy city centre, head for the Foz area and pop into Shis Restaurant for some of the tastiest Asian fusion food around. Request a corner table and you will remember your meal at Shis Restaurant in Portugal not only for the exquisite food but also for the 180-degree panoramic sunset views. Perfection!