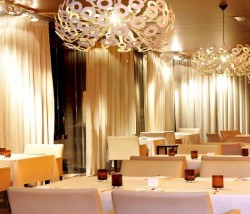 The Salsa & Loureiro Restaurant takes pride of place in the heart of one of Porto's most famous hotels – the Hotel Porto Palacio. Named after the hotels' executive chef, Helio Loureiro, the restaurant serves a sophisticated gastronomic creation that draws on the traditional flavours of Portugal and serves them with a modern twist.
The play on words is indeed amusing, with Loureiro (the chef's surname) being the Portuguese word for 'bay leaf', giving a fun and interesting glimpse of the chef's inventive infusion of flavours into the Salsa & Loureiro Restaurant's cuisine.
The restaurant occupies the first floor of the Hotel Porto Palacio. In keeping with many hotels restaurants, it is expansive and formal. It is, however, delightfully conceived by interior designer Paulo Lobo to lend a feeling of sophisticated modernity and opulence to the surroundings. This is a special hotel that deserves nothing less than a special restaurant. Thankfully, Salsa & Loureiro delivers.
Salsa & Loureiro Restaurant is open daily, from Sunday to Monday, for dinner only.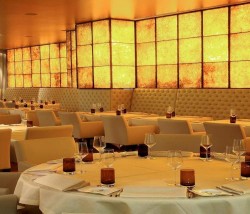 Opening hours are from 8pm to 11.30pm and there is seating for 60 diners. Reservations are recommended, as the restaurant is popular with hotel guests and visitors from elsewhere in Portugal and beyond, as well as with locals in search of a fine meal in a sophisticated and attractive environment.
The menu offers a range of delicacies just begging to be tasted and enjoyed. An amuse bouche might include miniature fried plantain wrapped in crispy bacon or black pudding with apple, while favourites from the main course menu include foie gras prepared two ways, sautéed scallops, rocket with grilled cheese and sweet and sour sauce, duck in filo pastry or cheek of veal with mashed chestnuts.

Being a hotel restaurant, the staff at Salsa & Loureiro are well-trained, attentive, and informed about the menu and the extensive wine list on offer. Wines are relatively high-priced, but this is made up for by the opulent and refined surroundings. The perfect place for a special meal during your stay in Porto, Portugal, indeed.
Salsa & Loureiro Restaurant
Hotel Porto Palacio
Avenida da Boavista 1277, piso 1
Porto 4100 130
Portugal
Tel: +351 226 086 704
www.hotelportopalacio.pt