Giroflee Restaurant is located right in the heart of the Ribeira district in the historical city of Porto, Portugal. Situated in an imposing building, one of the tallest in the area, Giroflee occupies three floors, each decorated in a modern and contemporary style.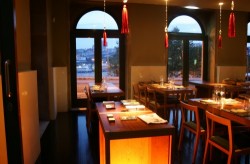 In fact, the restaurant is only part of the picture at Giroflee, as the first floor area is given away almost entirely to an art gallery. The two are not separate entities however, and the gallery has many artworks on display and for sale throughout the restaurant dining rooms.
A true fusion of food and art is what Giroflee Restaurant is all about. Expect to find food with a modern and experimental edge to match the contemporary artworks on display from some of Porto's most exciting up-and-coming artists. Visitors will also find something of an international flavour, with visiting artists from all over Portugal and beyond, and exotic cuisine to match.
Giroflee Restaurant is open from Tuesday to Saturday from midday until 11:30pm, serving an extensive lunch and dinner menu throughout the year. Chef Miguel Morgado takes the traditional flavours of Portugal and redefines them, creating something new and unique with every dish.

If you still have room, the delicious desserts such as waffles with chocolate sauce and vanilla ice cream; House chocolate fondant; or Angel hair in mint and cinnamon sauce are well worth a try to complete your meal.
Giroflee has an extensive wine list with plenty to choose from to match your meal. The staff are well informed and helpful with suggestions regarding wine, food and the dish of the day. Expect to spend around 25 euros per head for an a la carte meal with wine.
Bookings are recommended, as the restaurant has relatively few covers despite its generous size, and do allow plenty of time to admire the art works, enjoy the ambience, and delight in some of Porto's most innovative cuisine.
Giroflee Restaurant
Rua Nova da Alfandega, 1
Ribeira
Porto
Tel: +351 220 120 752
www.girofle.com.pt