As Portugal's second city and, arguably, its economic centre, Porto is a major hub for flights and transport between other cities in Portugal and a wide range of destinations on mainland Europe, the UK and beyond.
Porto Airport is an international airport, known as Francisco Sá Carneiro Airport (travel code OPO). It is the third busiest in the country in terms of volume of air traffic (only Lisbon and Faro see more) and caters well for both business and tourist passengers. Carriers include TAP Portuguese Airlines, Iberia, Lufthansa, Luxair, and Ryanair and the airport sees more than 5 million travellers per year pass through its terminal.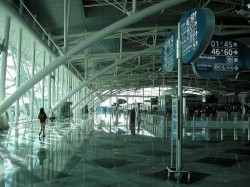 Facilities include a shopping area, various food and drink outlets, car rental providers, currency exchange, banking facilities, a pharmacy and various other temporary and permanent services.
The building itself is modern and comfortable, having undergone major renovation works in recent years to transform it from its original 1940s building style. So whether you are looking to fill a spare half hour before boarding or need to occupy yourself and your loved ones for a longer layover, there is plenty to do and plenty of comfort in which to relax.
The airport in Porto, Portugal, is located just six miles from the city centre, making the historic attractions of this ancient destination pleasantly accessible, whether you are visiting for a day, a weekend or a longer stay. On arrival there are various ways of reaching the centre. If you enjoy getting out and about, consider renting a hire vehicle from one of the many providers with booths in and around the airport. Alternatively you can opt to take a private taxi or reach the city centre via public transport.
One of the most popular transport methods to the centre of the city from Porto Airport is the Aerobus ― the dedicated airport bus, which runs directly from the terminal building right to the heart of the city. Other bus services which stop en route are also available.
Porto's Sao Bento station is easily reached by Aerobus, making it quick and easy for those using the airport in Porto, Portugal, as a gateway to other destinations in the area. Many travellers for Coimbra, Braga and the other historic cities of central and northern Portugal use Porto Airport for their arrival thanks to its excellent transport links.