Every great city in Portugal has a great cathedral, and Porto is no exception. The Se Cathedral of Porto is located at Terreiro da Se, right in the heart of the historic UNESCO World Heritage Site of central Porto. Built in the 12th century, the Se Cathedral of Porto is one of the city's oldest monuments and one of the most important buildings of Romanesque style in Portugal.
The cathedral is flanked by two distinctive square towers, both of which are supported with two buttresses and crowned with a cupola. A baroque porch and lovely Romanesque rose window under a crenelated arch crown the exterior, while the interior consists of three naves, with the main nave crowned with a barrel vault.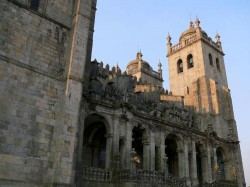 Like many buildings of its age, the cathedral has undergone a number of architectural and design changes through the ages, though its original Romanesque footprint remains unmistakeable. A gothic funerary chapel was added in the 14th century, known as the chapel of Joao Gordo, named after a Knight who worked for King Dinis I.
This was followed by a gothic cloister, which was added during the reign of King John I and is notable for its delightful baroque tiles by Valentim de Almeida, depicting the life of the Virgin Mary. King John I was in fact married here to his English princess, Philippa of Lancaster, in 1387, while one of Portugal's most important figures, Henry the Navigator, was baptized at its altar.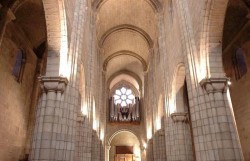 It was during the 18th century, however, that the Se Cathedral of Porto underwent its most significant changes, succumbing to the rich baroque embellishments that were added to so ecclesiastical buildings of the time. Structurally these included a new main portal and an elegant loggia to the lateral façade, along with a new apse which was decorated with baroque wall paintings by Nasoni and choir stalls.
One of the most notable additions during the baroque period was the altarpiece of the Chapel of the Holy Sacrament, which depicts a beautifully elaborate scene made entirely of silver. Designed by Portuguese artists, this was completed during the late 1800s, as were the three red marble holy-water fonts, supported by a statue. The baptistery also showcases an interesting bronze bas-relief by Antonio Teixeira Lopes which depicts Christ's baptism by John the Baptist.
The cathedral is centrally located right in the heart of the city and can be visited easily alongside other key attractions such as Sao Bento Rail Station, with its beautiful blue-and-white tiling, and a number of other ecclesiastical and historical sites of interest.
Se Cathedral of Porto
Terreiro da Se
Portugal
www.diocese-porto.pt