The Funicular dos Guindais is perhaps the most notable method of transport in Porto, Portugal, and is as much of an attraction in its own right as it is a means of travelling from one part of the city to another.
The funicular has a rather inauspicious start when it was closed in 1893, just two years after its grand opening, due to a serious accident on the line. After remaining closed for decades, it was the beneficiary of a major project to improve Porto's transport infrastructure, and was redesigned and reopened in February 2004.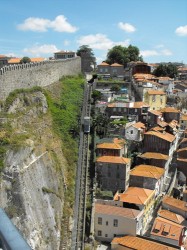 The Funicular dos Guindais runs from the base of the river at Gaia to Batalha Square. It is believed that the project was originally destined to cross the river, right into the main riverbank in central Porto, but that the two areas (Gaia and Porto have separate administrations) couldn't agree on how this should be done.
In the end Gaia built the line entirely on its side of the river; however it is easy to access the main Cais da Ribeira area simply by crossing the bridge on foot.
The line itself is based on a single track with a central passing loop and the train an unmanned single cabin in each direction, with a capacity for 25 people. The line is 281 metres long and covers a drop of 61 metres top to bottom.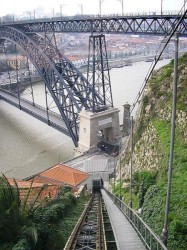 The upper section climbs through a tunnel while the lower section covers a steep gradient between the passing loop and the base of the hill, requiring interesting engineering elements in order to achieve constant, adjustable levelling within the cabin.
The Funicular dos Guindais offers panoramic views out across the Douro River below, taking in the Ribeira and the Cais de Gaia and the pretty, traditionally styled boats that bob gently on their moorings. It is however more than a simple attraction for visitors to Portugal's historic second city.
Many of Porto's residents now use the funicular for their daily commute between the Ribeira and the Cais de Gaia, and the metro stations and mainline station of Sao Bento, ensuring that it plays an important role in the city's everyday life.
The funicular costs roughly €2 for a one-way ticket but is well worth the expenditure. When it was first re-launched, the cost was included in the city's travel card scheme, known as the Andante ticket.
However as of 2013 this has been discontinued, perhaps in testimony to its growing popularity as an attraction in its own right.
Most visitors to Porto, Portugal, will want to take in the delights of the old town, high on the hill above the Douro, as well as the quayside attractions.
The Funicular dos Guindais is the perfect way of combining both without tiring the legs, and providing the added bonus of some of the best views in the city into the bargain.
Funicular dos Guindais
Av. Gustavo Eiffel
4050-297 Porto
Portugal
Tel: +351 225 081 000
www.metrodoporto.pt