Porto's Casa da Musica is right at the heart of the city's exciting and sophisticated cultural scene. It is a relatively new addition, having been conceived in the late 20th century, however it has gone on to stake its place firmly at the forefront of Portugal's classical music offerings.
The building itself was designed by the Dutch architect Rem Koolhaas alongside the Office for Metropolitan Architecture and renowned engineers Arup, and no sooner was it completed, it became something of a cultural icon in Porto. It stands at an impressive 12 storeys high and boasts an eye-catching, irregular shape.
Its modern styling is set off by its striking white concrete finish, in stark contrast to the traditional architecture of this city of northern Portugal yet surprisingly complimentary at the same time.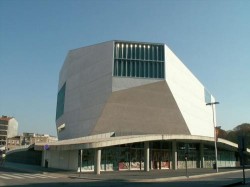 Some have described the Casa da Musica as resembling a meteorite that has landed in the middle of the city. Others have labelled it an architectural masterpiece. Whatever your view may be, one thing that is certain is that the project invites conversation, attention, and controversy in equal measure.
It is fitting that the Casa da Musica plays such a prominent role in the skyline of Portugal's second city and in the lives of its residents, as it was conceived originally to mark Porto's year as Cultural Capital of Europe in 2001. In fact, it was not finished until 2005, some four years after the city's designation as a cultural capital; although it has gone on to bring pleasure to locals and visitors alike for almost a decade.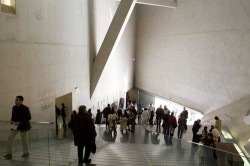 The building was erected just over the road from one of Porto's main centres, the Praca Mouzinho de Albuquerque, on the site of a former central tram garage on the Rotunda da Boavista.
The unusual structure houses two main auditoriums – a large auditorium with capacity for 1238 people and a small auditorium with capacity for 300 people seated. There is a restaurant located at the very top of the building and a range of additional areas for hosting educational events and workshops plus ad hoc exhibitions.
Do take the time to visit the top floor restaurant, even if only for a coffee and delicious Portuguese pastry, as the view over the Rotunda da Boavista and across the Porto skyline is almost as impressive as the building in its own right.
If you have the time and the budget, however, it is well worth settling down for a full meal in the restaurant, which is one of the most sophisticated eating places in the city.
The Casa da Musica now plays host to some of Portugal's most important music events, covering just about every genre. It is home to the Orquestra Nacional do Porto, but in addition to classical recitals, visitors can expect to enjoy jazz, fado, electronic and dance music, as well as various other experimental events.
Casa da Musica
Avenida da Boavista, 604-610
4149-071 Porto
Portugal
Tel: +351 220 120 200
Fax: +351 220 120 298
Email: info@casadamusica.com
www.casadamusica.com