The Clerics Tower, or Torre dos Clerigos, is one of the most sought-after sightseeing destinations in Porto, Portugal. Celebrating its 250th anniversary in 2013, the tower has a long heritage. It was originally built between 1754 and 1763 as the bell tower of the Clerigos Church, on which construction began some twenty years earlier.
The Torre dos Clerigos provides the perfect centrepiece to one of Porto's most attractive ecclesiastic buildings which is constructed in beautiful Baroque style. Built for the Brotherhood of the Clerigos, it was commissioned from the Italian architect and painter, Nicolau Nasoni.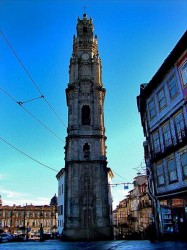 Nasoni is notable for a wide range of Baroque architecture in northern Portugal during this period, including several buildings of note in Porto itself, including the Misericordia Church, the Archbishop's Palace and the Loggia of the Se Cathedral of Porto. Later in his life, Nasoni himself entered the brotherhood and upon his death was buried in the crypt of the Clerigos Church.
The Torre dos Clerigos, and indeed the church itself, sits in the heart of Porto's historical city centre and forms a key part of the area which has been designated a World Heritage Site by UNESCO.
The Tower is very much a landmark in Porto, visible as it is high above the rooftops from many a vantage point throughout the city. It is an impressive 76 metres tall and for many years was used as a reference tool for the many boats that entered the waters of the Douro on trading routes between Portugal and other areas of the country and indeed the world.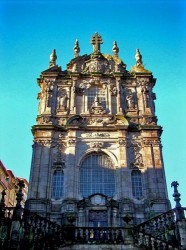 At one point the Torre dos Clerigos was Portugal's tallest building, and such was its importance that it was classified a national monument in 1910, long before it gained its world heritage status.
The Torre dos Clerigos is a must-visit attraction on any Porto sightseeing itinerary. The front of the church itself is beautifully decorative, with superb baroque styling incorporating contoured domes and imposing spires, but this falls away almost into insignificance against the huge granite tower which protrudes through the western side of the church.
The top of the church is reached via an inner staircase consisting of 240 steps in spiral form, culminating in an impressive clock house at the very top.
The tower is open daily throughout the year, from 9am to 7pm in summer and from 10am to 5pm in winter. Closed between midday and 2pm and all day on Wednesdays. It is worth arriving in good time, especially if you are visiting in high season, as the tower receives more than 120,000 visitors per year, all eager to take in its baroque splendour.
Torre dos Clerigos
Rua Senhor Filipe de Nery
4050-546 Porto
Portugal
Tel: +351 222 001 729
http://torredosclerigos.pt