The renowned Sao Francisco Church in Porto, Portugal, gains much of the attention of tourists to the city. However, it has a major rival in the form of the Church of Santa Clara.
The Church of Santa Clara dates back to the early 15th century when it was constructed alongside the Santa Clara Convent. Smaller than its huge baroque rival, it is no less sophisticated for its impressive architecture and refined wood and gilded finishes.
Much of the original church and monastery is in fact built in gothic Manueline style, with the renaissance embellishments added later, in the 17th century.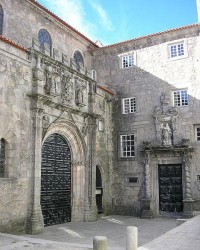 The exterior is relatively unassuming, particularly if one has already visited the famous Sao Francisco Church with all its opulence. However, inside the exquisite rococo and baroque decoration would find it hard not to take the breath away.
The church is located on Largo 1 de Dezembro, in a quiet area away from the hustle and bustle of the main city centre, hidden away behind a small square, not far from Batalha Square. It can be a little tricky to find but do persevere as it is well worth the trip while you are in Porto, Portugal.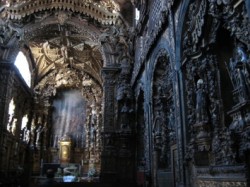 On entering, it is the gilded woodwork that immediately captures the interest of its visitors. It literally appears that the entire building is made of gold, although on closer inspection it is revealed that it is in fact covered with ornate wood carvings, which in turn are encased in lavish amounts of gold leaf.
It is believed that it took more than 200 kilos of gold to complete the extravagant interior, a testament to the wealth and opulence that was enjoyed by the church in Portugal its heyday.
The altarpiece is especially of note, unmistakeably baroque in the style that was so popular in Portugal at the time, as are the chancel and crossing which were commissioned from the famous artist Miguel Francisco da Silva in 1730. The choir stalls and luxurious chapel are also not to be missed, and look out for an abundance of saints, cherubs and angels in amongst the gilded interior décor.

A small team of volunteers are on hand at the Church of Santa Clara to answer questions and even provide impromptu tours of the building, and they are known to offer a friendly reception to its many visitors.
Do plan ahead with your camera equipment if you are planning on taking photographs of the attractive interior, as flash photography is not permitted.
Church of Santa Clara
Largo 1 de Dezembro,
4000-404 Porto
Portugal