The lovely fishing town of Tavira, located in the eastern area of the Algarve region, one of the most sought-after in Portugal by holidaymakers looking for sunny days and entertainment, is known more for its quiet setting than any other trait.
Although this is seemingly true all year round, Tavira still boasts a few places than can become a great choice for a nice evening in great company.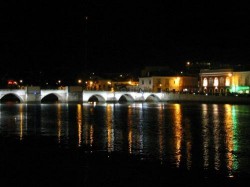 Depending on what you are looking for, Tavira's nightlife might come as a surprise for some, whether you are looking for something where all the locals go or venues full of tourists and expats.
One of the places you may find some places to go have a drink or dance for a few hours is located in Rua do Cais, The Meeting Room. Both locals and visitors gather here to indulge in some live music or DJs coming from all over the country to improve Tavira's nightlife. On weekends, The Meeting Room is usually full, but it is definitely worth a visit if you are looking for some fun.
The Pink Flamingo, also in Rua do Cais, is located near the ferry boat stop and has both indoor and outdoor seating areas, making up for a great night sipping on some cocktails, which, by the way, are said to be quite the stars of Tavira's nightlife, and listening to some music amidst a pulsating and modern décor.
One of the best ways to breathe in the spirit of Tavira at night is by indulging in a gastronomy tour in the evening. There are a number of venues in Tavira city centre that usually serve as starting point for an adventure through the town's nightlife scenes.
Beira Rio invites all guests to discover the delicious, typically Portuguese menu while having a taste of the Algarve's most refined red or white wines, truly a great way to start your evening.
It is quite usual to see diners seating outdoors a number of places until pretty late, relishing on some tapas or several course meals, people-watching as they sit outside in the terrace, which, more often than not, is really the street, making it easier for passers-by to blend in with those eating the night away.
Although not really Portuguese-style food, Aquasul is another restaurant in Tavira city centre that is well worth a visit until late in the evening, as it boasts an international-inspired menu, including pasta, pizza, and bruschettas at a very reasonable price.
In addition to the delightful dining scene in Tavira, there are several smaller bars spread through a few streets, which can be a great destination for the evening, if you are willing to look for them.
The Mad Hatter's Bar and the Skipper's Tavern are two English-style pubs mostly frequented by tourists and expats, though it is possible to find locals having a pint at the counter or sharing a few laughs at a big table from now and then. These are located in Rua Jacques Pessoa, one of the riverfront streets near the Roman Bridge.
In Rua Almirante Cândido dos Reis, Australia Bar lets you do some karaoke on weekdays, which can be a lot of fun in case you are not staying for the weekend and still want to have a taste of Tavira's nightlife.
Tavira's definitely a long way from nightlife heaven, so the best to do is follow your instincts and stroll the streets to find some hidden places. Summer nights are always bursting with holidaymakers looking to just wander through the city centre and indulge in a few tapas and wine while listening to music, which is very common during June, July, and August.
These months always come with live music, food stands on the streets, people singing and dancing, a true Popular Saints festivity to get you going. This is also perfect if you are in Tavira with children, as this would be a much livelier environment for them than any kind of bar.
Make sure you do a little research and learn what to expect from this quiet, pacific fishing town with not a whole lot to offer so you will be prepared.