Quietly set on the eastern coast of the Algarve region, Portugal, Tavira is definitely a picturesque sight for the eyes, merging a rich historical and cultural background with a sense of modernity slowly sprawling throughout the lovely fishing town.
If you are looking for some interesting gifts from your trip to Tavira, there is plenty to choose from to suit all budgets and tastes.
Art in Tavira
The arts & crafts scene is definitely the one to follow, and if you are thinking of visiting Tavira you will be amazed with the infinite amount of art exhibits, crafts fairs, local shops and other art activities.
Whether they last for a few weeks or a couple of months, art exhibits are always a must-see in Tavira. There are a few art galleries spread through the city centre with both local and foreigner artists' art works displayed for the enjoyment of residents and travellers alike.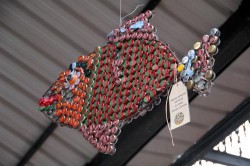 If you are travelling to Tavira in the next few months, there are a number of art exhibits going on at such places as the Tavira Museum – Palacio da Galeria, a place well worth a visit with lots of interesting facts about Tavira to discover and art displays supported by photography, painting and sculpture.
The Cineclube de Tavira, at the Cine-Teatro António Pinheiro, is also a great venue to discover, with a number of film festivals going on, especially during summer, in addition to the usual film screenings.
Also, the team behind the Cineclube de Tavira has been working very hard to put on a new edition of the Tavira Open Air Film Shows, which take place outdoors in the Cloisters of the Carmo Convent, a beautiful scenario to take advantage of the warm summer nights while in Tavira.
Craft fairs & markets
There has always been an interest and curiosity regarding the art of crafting and handmade artisan objects in the city of Tavira. These kinds of activities are very famous in and around town, with so many craft fairs & markets happening throughout the year one can hardly keep up.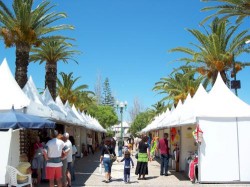 During summer, however, the number of craft fairs & markets increase and it is possible to discover a number of them in different sites, such as the Mercado da Ribeira, in the riverside area of Tavira city centre, and in a number of gardens and public parks like Jardim das Palmeiras.
Here you can find an assortment of different traditional objects and decorations inspired by their history as a fishing town and also by a very important and distinctive time, the Islamic domination, which left its mark in the collective memory of the population reinforced by the stories and tales passed throughout generations.
There are also many workshops and classes happening in different cultural spots of Tavira city centre. Refer to the Tavira City Hall to get more information, as they will certainly know when and where to find for this kind of traditional activities.
Handcrafting tradition
Handcrafted products are a common practice amidst the population of the Algarve region, as well as in the rest of Portugal, taking its roots from a well-preserved history.
Weaving is probably one of the traditions that still remain as significant as it was in the past. Young people are finishing school and college degrees in this field, turning the weaving tradition into a well-established tradition yet modernised to fulfil new fashion requirements.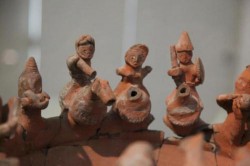 There are also events happening around the arts of embroideries and basketry, which are still sought-after activities by aficionados who wish to continue with this ancient tradition.
Ceramics has become a favourite amongst travellers who wish to take a little bit of history home, especially the objects pertaining to the Islamic period. This new life given to this construction sector is extremely advantageous for the traditional commercial trade in Tavira, as the experts who made them do it all by hand.
Local shops
There are a few local shops selling lovely handicraft products that you will easily purchase, as they seem to call you in instantly and make you stay for hours observing every little detail.
One of those shops is Casa das Portas, which actually owns two different addresses, the one near the Roman Bridge being the most sought-after due to its location. Jane Gibbin, a talented photographer, is the owner of Casa das Portas, where you can find selectively sourced crafted goodies such as jewellery, handbags, scarves, postcards, and much more.