Quietly settled near the Roman Bridge, a landmark of one of the most picturesque, unspoilt towns in the Algarve region, Tavira, is Aquasul Restaurant, a favourite amongst locals and visitors from all over the world who really can't get tired of the restaurant's great atmosphere and amazing, Italian-style food cooked with some of the best and freshest ingredients from local markets.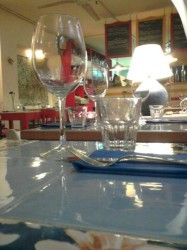 Antoinette Vandenberg, or Nettie, as she is locally known, is the founder and owner of this lovely restaurant, a modern, artsy place nestled within a traditional, white-washed house typical of the Algarve region, with blue stripes and a charming entrance.
For the warmer days, the Aquasul Restaurant sets up a few tables and chairs for guests to enjoy the nice weather at night, which can easily transform into an unforgettable meal, as there is plenty entertainment in the streets and people passing by. The ideal scenario for a time well spent in a typically Portuguese atmosphere.
Inside, you will find a cheerful and inviting environment to keep your lovely meal going, with chalkboard-written slates suspended from the ceiling, colourful tables and cupboards, and a definitely magnificent counter centring the main room.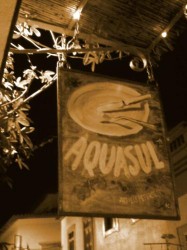 Because it only serves dinners, it is recommended you always make a reservation at the Aquasul Restaurant, as you can easily wait more than you would want to if you take no such precaution. However, the staff is ever so helpful, effective, and cheerful they will certainly attempt to find and arrange a table for you, yet be advised anyhow.
The entire menu, a variety of homemade delicacies inspired by Italian cuisine with the enjoyable help of Portuguese flavours and local ingredients, is undoubtedly one to reckon with.
Start with homemade focaccia with tapenade and marinated olives and rightfully pass along to the warm goat cheese or homemade cod croquettes. For mains, order one of their daily specials: fish, meat or vegetarian. These are always different every night and will definitely stir up your night.

The wine selection is remarkable and you should go fine with a house red or white from the Algarve region or any other from Portugal's most well-known and treasured vineyards, all of this for a minimum of € 20 per person, depending on your full order.
Aquasul Restaurant
Rua Dr. Augusto Silva Carvalho 11
8800-324 Tavira
Portugal
www.facebook.com/restaquasul
Email: rest.aquasul@hotmail.com
Tel: +351 281 325 166