Tavira, Portugal, is one of the Algarve's main destination favourites for travellers from all over the country and abroad. The nice, warm weather all year round is a magnet for everyone who loves to spend their holidays mostly outdoor and seek and idyllic place to spend the holidays.
If you are travelling to Tavira with children, there are plenty of activities to choose from and entertaining happenings to keep them busy and happy.
Choosing the right accommodation is always something to have in mind when you are planning your vacations with your children in mind. Make sure you get the right information on family-friendly hotels and restaurants in and around the city, with play areas or game rooms.
Herdade da Corte and Vila Gale Albacora are both terrific hotels to take your children to if you're planning to stay with children in Tavira, as they offer specific areas where they will be supervised and able to spend some time playing and just being kids.
Tavira Ciência Viva Centre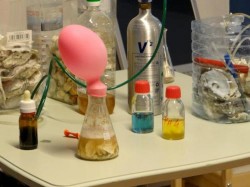 As you probably have learned to know, a Ciência Viva centre is an interactive platform where kids can participate in tasks, experiments, scientific discoveries and much more, all of this connected to water, energy and other natural scientific sources.
In Tavira, the Ciência Viva Centre is dedicated to inspire the curiosity for science and technology, under the subject of 'Water', therefore granting a number of different activities for children to those interested in participating in such endeavour.
The centre is located within the chapel of the old Carmo Convent, right in the heart of Tavira, which accounts for an architectonic and historical landmark as well.
In addition to exhibitions, which are permanent and can be seen at any time, visitors are welcome to explore the building and engage in a number of experiments in the Laboratory, the Workshop, the Cyberspace, and other activities for children. This will definitely be a great way to let your kids get acquainted with science and Tavira's own history with water.
Bicycle tours around Tavira
There is plenty to explore in and around Tavira, especially if you are willing to show the young ones the wonders of the Ria Formosa Natural Reserve and its many, many fauna and flora sights. Ecotourism is a very common activity in the Algarve region and Tavira is no different.
Renting a bicycle in one of the many bike rental spots around Tavira is definitely a great idea to put into action if you are with children in Tavira. The town and its surroundings villages are well acquainted with this concept and have several bike routes to choose from, such as the Ecovia Litoral Algarve or the Great Route of the Via Algarviana.
Also, you can rent a bicycle from 1 hour to more than 3 days, which will give you the time to explore the coastline, the countryside and even visit other places in the Algarve region.
Kayak Tours
If you and your family are into water sports, kayaking will ensure an afternoon well spent in the Ria Formosa Natural Reserve, one of the 7 Natural Wonders of Portugal.
There are several kayak tour stands across Tavira's coastline and the Ria Formosa, so it will not be difficult to find where to begin your adventure. You will have the chance to explore the channels and marshes and even stop to observe the birds and other animals around the Ria Formosa.
There is always safety gear available in the kayaks so your children can feel safe and secure and just have fun.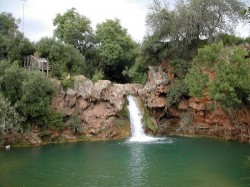 Pego do Inferno
Only known and frequented by locals for many years, Pego do Inferno and its stunning natural waterfall have become a much more popular holiday must-go for travellers. This is definitely a lovely place to take your children and spend the day listening to the water cascading over the rocks and playing in the small pebbled "beach".
Pego do Inferno is located a few kilometres from Tavira, so a car would be necessary to reach it. There is a small parking lot where to leave the car and then climb down to the waterfall. This can be a little tricky for little ones, but it will certainly be worth the effort.
Water and Theme Parks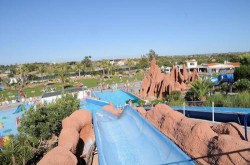 There may not be any water or theme parks located at a walking distance from Tavira, however, if you get the chance to take a car or rent one, do not hesitate do it. If you are with children in Tavira, visiting a water park in the outskirts will definitely worth your while.
In the Algarve, there are no less than four water parks: Splash & Slide, Aqualand, Aquashow and Atlantic Park. Wherever you are staying in Tavira, they will certainly know how to give you directions to any of these at the desk.
A day in the water park is great for the whole family, especially the younger ones, as there are plenty of dry and wet rides perfectly safe and fun for them.