Shopping for mementos and strolling around town looking for the best bargains and the most typical decoration objects is always a fun time during vacation. Also, if you are staying at an apartment or villa with a kitchen available, you can always find great fresh produce around the city centre that will add an extra something to your meal.
In Tavira, there is a small selection of places where you can purchase all sorts of things, so make sure you do a little research first or, perhaps, ask around town for the best places and you will find them in no time.
On both sides of the Gilão River, it is possible to find a few markets open almost every day of the week with fresh fish, fruit, and vegetables for your enjoyment, as well as a few local shops selling all sorts of goodies and traditional, handmade objects, such as basket ware, pottery, ceramic tiles, cork work, and shell handicrafts.
Old Market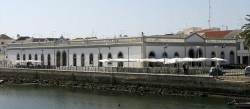 The old market in Tavira, also known as Mercado da Ribeira amongst locals, was built two centuries ago, in 1887. The main exterior façade has remained quite similar since those days until today, which adds up to the amazing and majestic building it certainly is.
People in Tavira used to go to the old market to buy everything they needed for the home, from fruits and vegetables to meat and fish, everything fresh and produced locally.
After its recent restoration, the old market, although still maintaining the ancient-esque façade, became a modern hub for small shops, restaurants, and cafés. The renewed and fresh atmosphere gives way to lovely afternoons eating an ice cream or catching up on your emails, as there is a large seating area inside offering free Wi-Fi.
A unique shop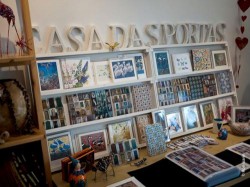 One of the most well-known street shops in Tavira is called Casa das Portas (House of Doors) and was founded by Jane Gibbin in 2007. There are actually two of them, the second one opening in 2011 near the Roman Bridge called Casa das Portas Sobre a Ponte.
The main attraction of this lovely shop is that it began by being a gallery comprised of its owner's photographs of doors and windows around Tavira city centre. Nowadays, the shop has grown into one of the loveliest in town, boasting an assortment of jewellery, handbags, home decorations, and other goodies, usually handmade.
Handcrafted bits and pieces
Tavira has a strong tradition when it comes to handcrafted objects and ancient techniques of basket ware, weaving, ceramics, and others.
In order to maintain the tradition as strong as they could, the population joined forces to create an association with which they are able to promote the work of their artists, as well as their own traditions, flavours, colours, and textures.
If you are willing to get to know more about the association and their store, visit their website before you arrive in Tavira or, perhaps, let it be a surprise and go directly there at Calçada da Galeria, 11.
Tavira Gran-Plaza
On the other hand, if your shopping desires fall upon something a little bit grander, there is a place where you will certainly feel like you are in heaven. The Tavira Gran-Plaza is a massive shopping centre with a wide variety of stores, as well as supermarket and cinema.
You could easily spend a full day wandering around the Tavira Gran-Plaza and its two floors of stores dedicated to an array of different products and services.
As you travel to Tavira in search of something different to take home, you will certainly have no problem finding what you are looking for, from crafted goodies to big stores carrying every well-known brand in Portugal and abroad.