Nestled in a narrow, quiet street of Tavira city centre, just a few metres across the Roman Bridge and the city centre, although still a bit secluded as if it were a hidden gem, Jamie's Cozinha Restaurant welcomes visitors to treat themselves to a worth-while Mediterranean-style meal.
At Jamie's Cozinha Restaurant, you will find nothing but an assortment of freshly cooked dishes made with local and seasonal produce, therefore turning each meal into a dining experience in no time.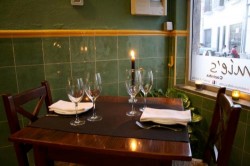 The owner, Jamie, who lent his name to the restaurant, is a vegetarian since he was 10 years old, so in addition to lovely meat and fish dishes, at Jamie's Cozinha Restaurant you will surely find a fine selection of tasteful vegetarian options.
The appetisers encompass a gorgeous selection of Vegetarian Francesinha, a traditional dish with a twist from northern Portugal, Fresh Wild Asparagus served with a sauce made with garlic, egg, and herbs, and Vegetarian Fondant.
Although there is definitely a tendency towards vegetarian delicacies, Jamie's Cozinha Restaurant also leans on meat and fish mains to make your dinner perfect, such as a 300g prime steak served with sides of your choosing, Gourmet steakhouse beef burger, and char-grilled 100% grass-fed beef, a natural Uruguayan beef that has quickly become one of this restaurant's favourite amongst guests.
As for fish dishes, the Salmon fillet served with pastry filled with broccoli, onion, garlic, lemon zest and prawns, and the Mussels cooked in a garlic, onion, cream and white wine sauce are certainly to die for.
The menu is renewed seasonally and doesn't leave anyone out, as it also carries a special menu for children comprised of such dishes as Chicken stroganoff, Baked fillet of fresh cod serve with homemade chunky chips or Gourmet beef burger served with cheese and chunky chips with a side of ketchup and mustard.

Jamie's Cozinha Restaurant is the ideal place to spend great moments in good company while enjoying well-cooked food sprinkled with the right finishing touches. While you probably will have to be more attentive when searching for it so you don't miss it, when you do, it will definitely spice up your senses.
Jamie's Cozinha Restaurant
Rua Poeta Emiliano Costa 6
8800 Tavira
Portugal
http://jamiescozinha.com
Email: miguel@jamiescozinha.com
Tel: +351 962 778 688