As one of Portugal's older cities and a UNESCO World Heritage site, shopping does not tend to be at the top of the agenda for Évora's visitors. Nonetheless, there are some lovely shopping areas and plenty of traditional and modern retail finds to be had.
Whether you are looking for traditional pieces crafted from the local cork trees that grow in abundance, hand-painted ceramic tiles in traditional or modern style, jewellery, clothing and even furniture and accessories for the home, you are likely to find it somewhere in Évora.
Local street markets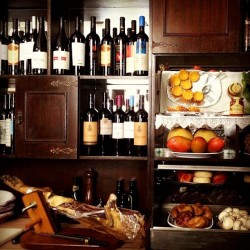 A good way to start your discovery of Portugal's shopping is to explore the local markets. The municipal market offers plenty of colourful fresh produce, grown in the local area, where you can marvel at the reds, greens, yellows, purples and oranges on display. Be sure to stop at one of the stalls selling local artisan produce such as smoky "paio" pork sausage, Serpa cheese and fat, juicy olives. A few choice samples make the perfect lunchtime accompaniment for some freshly baked bread, consumed in the shade of the local Jardim Publico, or public park, right next door to the municipal market.
A vast open-air market takes place on the second Tuesday of each month at the Rossio de São Bras, just outside the old castle walls between the centre of town and the railway station. Here you will find all manner of handicrafts, household goods, traditional costumes, clothing, shoes, children's toys, accessories and just about everything else you can imagine. The quality varies, as with all open-air markets, but there are certainly some bargains to be had, especially if you get into the spirit of things and haggle.
Each weekend sees a rotation of four different markets at a spot close the Aqueduct. Depending on when you visit, you will find a focus on antiquities, old books, collectables, and arts and crafts. Be prepared to spend some time rooting through the wares on display and you are likely to find some real hidden gems.
Avenida 5 de Outubro is the main shopping street in Évora. Largely pedestrianized, it is located right in the heart of the old town close to the Praça do Giraldo with its imposing cathedral and Roman temple. Avenida 5 de Outubro makes a lovely place for a stroll amongst the old doorways that open out to a plethora of shops selling colourful pottery, hand-painted ceramic tiles, carved cork adornments and the usual range of t-shirts, postcards and souvenirs found in the tourist towns.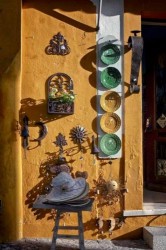 One of the most special places for shopping in Évora has to be the Oficina da Terra located on the Rua do Raimundo. This is a ceramics studio where two young local artists, Tiago Cabeça and Magda Ventura produce and hand paint exquisite ceramics in the age-old Portuguese style with delightfully and contemporary designs that lend them an entirely new and modern perspective.
Oficina da Terra and its young entrepreneurial owners have won numerous accolades since being established nearly a decade ago. Oficina da Terra is the place to come to buy real works of art that are more than a class above the usual tourist ceramic fare.
Rua Vasco da Gama and Rua Candido dos Reis are two other interesting shopping spots. Rua Vasco da Gama is home to several independent stores selling a range of wares of interest to the tourist and local resident alike, including a friendly organic health food shop selling vegetarian foods and gluten-free produce as well as some quirky artisan wood products and rugs.
Rua Candido dos Reis has a more upmarket selection including some independent clothing boutiques and a couple of jewellery stores stocking some interesting filigree gold pieces in Portugal's minimum standard 19.2 carat.
For books head to the Livraria Nazareth or the Livraria Som das Letras. The Livraria Nazareth stocks a good selection of maps in its upstairs showroom, including many of the Alentejo and Évora as well as some English novels, while the Livraria Som das Letras has a fair amount of choice in French and English books.
Évora was slow to follow the trend for large-scale mall shopping, but the past few years have seen it catch up with other urban areas with a new retail park and shopping centre. With the main retail park area already open and in operation, the accompanying mall, Évora Shopping, broke ground in late 2011 and is due for inauguration in 2013. With a cinema complex, supermarket and many major high street names set out over 20,000 square metres Évora Shopping is likely to transform the face of shopping in Évora.