One of the most famous landmarks in historic Évora, Portugal, is the Igreja de São Francisco, or St Francis Church. Located right in the heart of the UNESCO World Heritage site that covers much of the Old Town, the Igreja de São Francisco was constructed during the late fifteenth and early sixteenth centuries.
The church is perhaps best known as the home of the mysterious (and rather spooky) chapel of bones.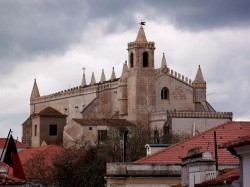 The chapel was the work of a group of Franciscan monks who designed it as a practical solution to the problem of 42 monastic cemeteries taking up too much space in and around the expanding city. They simply moved all the remains from each of the sites and relocated them to one single, consecrated chapel within the church so that the land could be freed up for further use and development.
As for the bones, rather than hiding them away, they took the unusual decision of putting them out on display, cementing the remains of more than 5000 individuals from all walks of life, all over the chapel walls and ceiling.
The chapel of bones may be a must-visit destination on the itinerary of any visitor to Évora, but do not be tempted to overlook the church itself, which deserves much attention in its own right for its lovely gothic and Manueline architecture. Like the nearby Sé Cathedral, the St Francis Church is a vast structure, built on a scale that the guidebooks simply cannot do justice to.
The original design of the Igreja de São Francisco was the work of architect Martim Lourenço, who designed the structure to stand on the site of a former Romanesque church dating back to 1226. There are some lovely Manueline features here, including the grand entrance to the church, which features a design of a pelican and an armillary, emblems of King João II and King Manuel I respectively.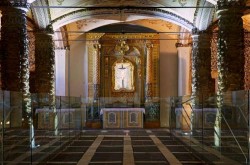 The huge porticos measure some 36x34x24 metres and the large, vaulted nave is the longest of its type to be found in any church in Portugal. The main altar and chance, although dating from slightly different periods, both display some lovely Renaissance features, while the choir stalls are both entirely different, with one being in classic Renaissance style and the other in opulent Baroque. Twelve open chapels line the sides of the nave, nestled between the main buttresses that support the wall.
Throughout St Francis Church can be found plenty of extravagant gilding, some lovely wood carvings and beautiful hand painted tiles depicting biblical scenes in Portugal's traditional white and blue ceramic colouring, as well as some lovely frescos by famous Flemish artists.