There has been a town on the site of Évora, Portugal, since Roman times thanks to its suitability as a strategic military point, raised high above the plains of the Alentejo and presiding over the area.
The old citadel, or acropolis, was built around the highest point in keeping with tradition. Over the course of centuries, defensive barriers – Castle Walls – were erected in order to protect the town, in turn elevating it to yet further prominence as a cultural, military and ecclesiastic centre of renown.
The initial construction of the Castle Walls was carried out by the Romans, with the Moors making later repairs and improvements, though little remains today of these original sections. Known as the Cerca Velha in Portuguese, these walls are literally known locally as the "old circle".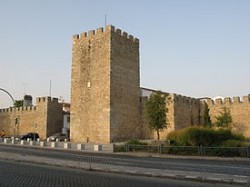 With the expansion of the city, new walls were built to a larger footprint during the 1300s to increase the size of the area held within its limits. These walls were built to a grander design as well as a grander scale, encompassing forty reinforced towers and ten gates. One of the gates, the Porta de Alconchel, remains beautifully intact to the present day and faces the main road out of Évora that leads to Portugal's capital, Lisbon. Another, the Arch of D. Isabel, can be seen near the post office, leading onto Rua Dona Isabel. The latter is classified as a National Monument.
The Cerca Velha was further extended and reinforced during the seventeenth century under the orders of King Joao IV after Portugal declared its independence from Spain. King Joao IV rightly sensed the possibility of an attack from the Spanish, which came in 1663, and the extensive walls were almost certainly to thank for Portugal's ability to fight off the attack and retain power.
Perhaps unsurprisingly, it is these later sections that remain most intact to the present day and are most prominent as you make your way through the streets of Lisbon. Take the time to pop into the Ministry of Culture during your visit to Évora and ask for some more detailed information about the Castle Walls. They are well-informed and happy to tell you the best route to take to explore them in their entirety, including taking in some local Roman houses displaying centuries-old frescoes inside.