There is much to keep visitors to Évora occupied for several days of sightseeing in and around the city. But if you are travelling by car or feel like hiring one for a day in order to venture a little further afield, there are some delightful day trips to the outlying areas just waiting to be discovered.
This one-day tour takes you away from UNESCO World Heritage sites of Évora to two very different Alentejo towns, each with their own distinct heritage and much to please the inquisitive traveller.
Begin your tour by heading due north from Évora, across the rolling hills and plains of prime wine-growing country. The land and climate here are perfectly suited to wine production, and indeed some of the very best wines produced in Portugal are produced here in the Alentejo. As a result, the broad plains that ease their way out from the historic city are swathed in vines, adding a distinctive flavour to the landscape.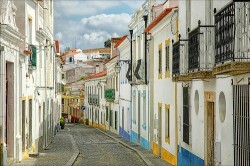 Multicolour weaving tradition
Your destination for the first leg of your trip is Arraiolos, a small town some 25 kilometres north of Évora with a pretty town centre populated by beautiful and well-maintained whitewashed houses, several churches such as the Rococo Baroque Matriz and the sixteenth-century Misericordia and a surprising number of shops selling a wide variety of colourful artisan rugs.
It is this carpet-making tradition that has led Arraiolos to develop a reputation that is far larger than you would expect for a small provincial town with just 3,500 inhabitants. The tradition dates back to the times of the Moorish occupation of the Iberian Peninsula and is based on a unique method of weaving in which many strands of thick, multi-coloured wool are worked with oblique stitches onto a basic foundation of cotton, sacking or linen. The different designs are now used to define the period in which they were invented and vary from intricate designs to broad, sweeping patterns.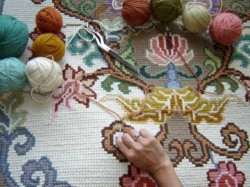 The Arraiolos rugs cover a vast range of sizes, from very small to large enough to fill a spacious room and can be used on the floor or hung for ornamental purposes. It is a delight simply to wonder through the whitewashed streets, punctuated with bursts of colour from the rug shops dotted here and there displaying their wares. The owners are on the whole very friendly and helpful and many speak English and other languages apart from Portuguese. The rugs are guaranteed with a certificate of authenticity and make a lovely memento to take home from your trip to Portugal.
Be sure to try the local sweet-savoury pastries, known as Toucinhos before you head on to your next stop. From Arraiolos, head due east towards the border where Portugal meets Spain close to Badajoz, through yet more rolling Alentejo plains. Stopping short of the border is your destination, the historic town of Estremoz.
Marble streets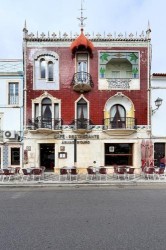 Estremoz is a major marble-producing town and is the world's second-largest marble exporter, offering a huge variety of stone in different colours, veins and styles. So readily available is this attractive material that the walls of the town are swathed in it, transforming it into a colourful and opulent museum of marble.
Wandering through the streets of Estremoz is like taking a trip through Portugal's historical past and there are many impressive monuments and museums that are well worth a visit while you are here. Start at the 13th-century Torre das Tres Coroas that towers over the town. Now carefully transformed into an elegant pousada, residents and guests alike are welcomed into the Torre das Tres Coroas' pretty courtyard and landscaped gardens to appreciate the stunning view out over the town and the vast plains of the Alentejo.
From here, move onto the Museu Municipal, or Municipal Museum. The Municipal Museum is home to a wonderful collection of ecclesiastical art, local pottery and clay figures. If time permits, the Museu Rural and the Palacio da Touca are both well worth a visit too. The Museu Rural has some wonderful local artifacts on show while the Palacio da Touca boasts an elegant collection of fine 17th century tiles.
Simply wandering through the streets of Estremoz is a delight. Stop and enjoy a coffee and cake at one of the town's many pavement cafes, admire the colourful stonework and watch the world go by before heading back to Évora at the end of a satisfying day of sightseeing.