The variety of hotels in Évora is one of the major attractions of staying in this historic city. This was one of Portugal's most prominent cities during the sixteenth century and many of its beautiful buildings have remained intact right up to the present day, making the city fully deserving of its designation as a UNESCO World Heritage site.
Accommodation in Évora is varied and interesting, with rooms in converted royal palaces, sixteenth-century stately homes and behind the ancient walls of centuries-old convents. Whatever you are looking for, hotels in Évora are unlikely to disappoint.
The Évora Inn Chiado Design hotel is a living work of art in itself,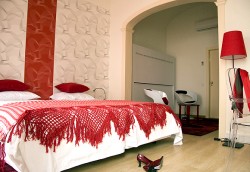 a place where traditional architectural style and modern aesthetics meet with wonderful effect. Located in a building of historic relevance (where the new Portuguese republic was proclaimed in 1910) it offers a wonderfully contemporary setting from which to enjoy the city. Rooms are surprisingly low priced and there is a dormitory option for those seeking good quality accommodations in Évora at hostel prices.
The Hostel Santantão is centrally located in the Praça do Giraldo, the main square in the centre of town that has played a pivotal role in its history and culture since its heyday in the sixteenth century and, like the Old Évora Hostel located close by, makes a great city-centre base from which to enjoy the city.
There are plenty of good four-star accommodations in Évora. Try the Évora Hotel, located within two hectares of landscaped gardens or, at the other end of the spectrum, the Casa de S. Tiago, the stately home now converted into a boutique hotel with just six beautifully designed and individual rooms. Other options include the Albergaria do Calvario recently remodelled to make the most of the space available within its wonderful sixteenth-century walls, and the Hotel M'AR de Ar Muralhas, which offers spacious gardens of landscaped greenery right within Évora's ancient city walls.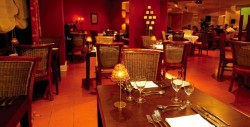 Several of Évora's famous convents have been restored and reopened as five-star boutique hotels. Try the Pousada de Évora, Convento dos Lóios whose luxury guest bedrooms each offer their own style, décor and history, or the fifteenth-century Convento do Espinheiro Hotel & Spa, with 92 rooms and suites decorated in a range of eclectic styles.
The Hotel M'AR de Ar Aqueduto is one of the most luxurious and glamorous hotels in Évora, Portugal. Located in the heart of the historic centre in the building of the sixteenth-century Sepulveda Palace, it retains many of the original architectural features for which this UNESCO World Heritage city has earned its fame. The hotel combines the best of contemporary design and traditional features throughout its 64 rooms, award-winning dining room and luxurious spa.