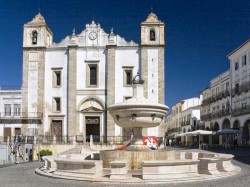 Évora, Portugal, offers one of the most attractive and complete Old Town settings in mainland Europe. Designated a UNESCO World Heritage site for its architectural and historical significance, the old walled citadel of Évora remains to this day at the very heart of the city, both culturally and geographically.
The spacious Praça do Giraldo, or Giraldo Square, is flanked on four sides by some of the most impressive examples of gothic and Romanesque architecture on the Iberian Peninsula, a collection of ecclesiastical buildings and ancient palaces, clustered around the lovely pedestrianised cobbled central area and fountain. Giraldo Square is a place where locals congregate by day and by night to chat, drink coffee (or something a little stronger) and watch the world go by.
It is unsurprisingly a favourite starting point for tourists arriving in Évora during their trip to Portugal to visit the wonderful buildings and drink in this magical city's sense of history.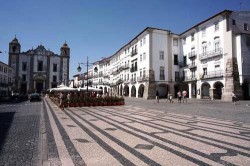 The Praça do Giraldo is bursting with life at all times of day. These days many of the white and ochre buildings have been converted into boutique pousadas and bed and breakfast hotels, perfect for visitors who want to stay right in the heart of the action. But it is the buildings such as the Sa Cathedral, the Temple of Diana that really dominate proceedings.
Built in the second Century by the Romans, no-one is quite sure how the Temple of Diana earned its name, but it is certainly worth a visit. It was one of Portugal's most important military outposts for many years following the town's heyday as the headquarters of the Roman military commander Quintus Sertorius. It offers beautiful views up to the prominent gothic and Romanesque cathedral that oversees the city.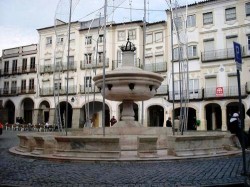 As the story goes, the explorer Vasco de Gama had the flags of his ships blessed at the cathedral before he set sail from Portugal on his ground breaking voyage to India. The cathedral now houses a museum with interesting historical information and artifacts including a rare thirteenth-century ivory statue of the Virgin Mary.
Located in the heart of Giraldo Square is St. Anton's Church, the Igreja de Santo Antão which showcases some beautiful architecture dating back to the sixteenth Century.
The Praça do Giraldo was once used as an execution ground during the times of the Spanish Inquisition and makes for an interesting, if rather gruesome, place to start your tour of Évora.