As a UNESCO World Heritage site, Évora has plenty of traditional architecture and design to boast about. However, when you scratch beneath the surface of the delightful Roman, Gothic and Romantic buildings, there is a thriving arts and crafts scene in the city that meshes the traditional and the modern with much aplomb.
If you are looking for some interesting mementos of your trip to Évora, either as a gift for a friend or loved one or as a decoration for your home, there is plenty here to choose from to suit all budgets and tastes.
Portugal is renowned for its crafts such as traditional basketware, carved cork wood, ceramics and filigree gold jewellery, as well as for its lace-making and traditional costume making and Évora offers a good selection of each.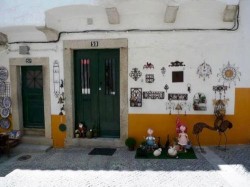 Street markets
Several open-air markets provide the ideal starting point for your discovery of art and craft in Évora. A large-scale open-air market takes place at the Rossio de São Bras, just outside the castle walls, on the second Tuesday of each month.
Here you will find a good selection of crafts including basketware, carved cork wood utensils and decorative figures, traditional costumes and handmade lace bed linen, table linen and decorative items.
The Aqueduct market sees a rotation of four different markets on each Sunday of the month. The Aqueduct market is the place to sift out antiquities, old books, collectables and arts and crafts depending on which Sunday you visit. On busy weekends there may be a lot of tat to sift through but it is often well worth it for some lovely traditional pieces in excellent condition.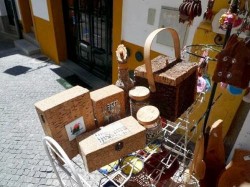 Much of the local area in this Alentejo region of south-central Portugal is swathed in cork trees. This attractive wood with its distinctive grain lends itself perfectly to making wooden plates, bowls, utensils, figurines and other objects with either a useful or a decorative purpose.
Many of the pieces are produced out of town in artisan workshops or small factories and brought in for sale in the small craft boutiques hidden away behind the doorways of Évora's ancient city-centre buildings.
Avenida 5 de Outubro is the main shopping street in Évora and home to several such shops, stocking examples that are both intricate and more rustic. Take a stroll down the full length of Avenida 5 de Outubro to weigh up your many options before you decide to take the plunge and buy.
All things ceramics
Portugal has a long history in ceramics and is well-known for its beautiful hand-painted figurines and decorative items as well as its ceramic tiles. While many of Évora's grand buildings display numerous hand-painted tiles with designs of exquisite detail, the modern-day city retains this strong tradition and is home to various ateliers where original works are produced, as well as many shops selling more mainstream versions.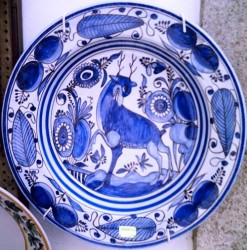 Many of the same shops on the Avenida 5 de Outubro that feature the lovely cork wood accessories are also a good place to find interesting ceramic works. Plates, bowls, cups, vases and a whole host of decorative items can be found here in abundance, featuring both traditional and more modern hand-painted designs.
Lovers of modern arts and crafts, especially those who enjoy ceramics, will adore the Oficina da Terra on the Rua do Raimundo. This ceramics studio and museum is run by two young local artists, Tiago Cabeça and Magda Ventura, and was established nearly a decade ago. The young entrepreneurs have been the proud recipients of many accolades and have been featured extensively in the media both in Portugal and abroad.
This is the place to come for some really original, modern and quirky ceramic works, sculpted and painted with an almost childlike sense of ingénue and yet remarkably sophisticated and original at the same time.
Piéce de resistance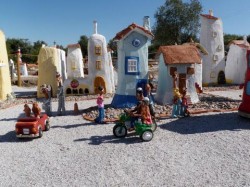 The Aldeia da Terra is the piéce de resistance of the Oficina da Terra team and is not to be missed on your discovery of the Évora crafts scene. This is a permanent exhibition set outside the old city walls, taking the form of a full model village designed in their own individual, quirky style.
The Aldeia da Terra comes complete with famous monuments, whitewashed houses, cars, taxis, bicycles and miniature figures of many townspeople going about their everyday life. The display shows more than a touch of humour and is guaranteed to put a smile on the face of every visitor.