Stretching for an impressive nine kilometres, the Agua de Prata Aqueduct towers over the rooftops of Évora and is a prominent architectural feature no matter where you are.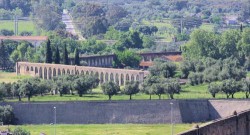 The Agua de Prata Aqueduct was designed by military architect Francisco de Arruda, architect of the famous Belem tower that stands in the centre of the Tagus River, at the entrance of the Lisbon estuary. It was built upon request of King João III in order to supply water to the city.
Évora's strategic military position was unmatched in this area of central Portugal, but its elevated location and lack of ground water were a problem for this growing town, requiring a solution to bring it from the nearest major supply, some nine kilometres away in the Ribeira do Divor.
The Agua de Prata Aqueduct was constructed over a six-year-period between 1531 and 1537 and is considered to be one of the greatest architectural offerings of the sixteenth century to be found anywhere in Portugal. The northern sections of the project close to the river were relatively quick and easy to construct, mostly running through tunnels, but it was the southern section that meets the town itself that posed the greatest architectural challenges and consequently ended by being so impressive.
The series of arches reaches a height of 26 metres at its peak and cuts its way through the centre of Évora, integrating itself over subsequent centuries to become a part of the town's very fabric. Over the years, houses, shops and other commercial premises have been constructed beneath its arches, the most interesting of these to be found in the area around the Rua do Cano to the far north of town.
The aqueduct originally had its outlet in the Praça do Giraldo, Évora's main square, but was damaged during conflict in the mid seventeenth century. When it was repaired, the team took advantage of the opportunity to move the outlet from the central area to one that had less impact on the day-to-day life and movement of the city.
The Agua de Prata Aqueduct literally means "Aqueduct of Silver Water" and it was named as such for two reasons: the cost, as this was one of Portugal's largest construction projects of the time; and the crystal-clear quality of the waters of the Barragem do Divor and Ribeira do Divor, from which its waters are sourced.