Évora, in Portugal, is an ancient city with a modern outlook. There is plenty here to keep visitors entertained from dawn to dusk – and for those who are looking for some fun and lively Évora nightlife, entertainment from dusk until dawn shouldn't be any problem either.
Évora is a provincial town set around an hour's drive due east from Lisbon, located in south central Portugal. It is located in the Alentejo region, an area known for its wine production and some delicious traditional regional cookery, so as you might expect, eating and drinking play a major role in the lives of the town's inhabitants and the many visitors it receives each year.
Dinner time
There are many restaurants and places to eat in Évora, including small cafés and bakeries, intimate restaurants offering excellent value set daily menus featuring the traditional cuisine of the region and five-star dining at some of the town's most exclusive boutique hotels. People in Portugal tend to eat later than they do in northern Europe or the States, and Évora is no exception. Don't expect to see many fellow diners keeping you company, other than fellow tourists, if you eat much before 9pm, and expect to see things in full swing at around 10pm.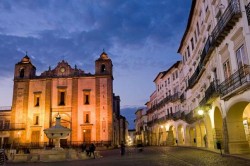 One of the most popular places to congregate in the town is at the Praça do Giraldo, the central square right at the highest point of town, located in the old citadel within the ancient castle walls. The Praça do Giraldo is flanked on all four sides by some of the most famous buildings and monuments in this UNESCO World Heritage city and is as much of a meeting place at night as it is during the day.
The square is pedestrianized and lined with a series of pleasant cafés and other eateries, each of which offers outdoor tables where diners can sit and enjoy a drink or bite to eat throughout the warm, balmy Portuguese evenings, sharing conversation with friends and watching the world go by. Most establishments on the square stay open until around midnight, sometimes later in high season.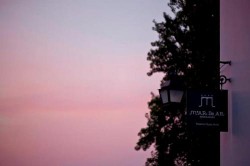 For a drink in an upmarket setting, try any one of the smart hotel bars, such as the Pousada de Évora, Convento dos Lóios or the Hotel M'AR de Aqueduto. The Hotel M'AR de Aqueduto offers one of the most attractive outdoor restaurant bars in the city, where you can enjoy fine food and drink against the backdrop of the floodlit aqueduct walls.
Évora is home to one of Portugal's leading universities and as a result it is very much a city that is young at heart. Student parties take places virtually every night of the week and the town's bars and lower-cost eateries are always buzzing with a lively crowd of bright young things.
Most of the bars are located within the historic centre and it is easy to make your way from one to the next without having to walk very far in between.
Wednesday night is student night in most of the bars and clubs and also in some of the town's restaurants. Expect to find larger crowds as a result but also a little extra atmosphere to go with them.
Dance the night away
For those in search of their dancing legs, head for Praxis Discoteca on the Rua Valdevinos. Praxis Discoteca is a dance club frequented by a mix of young locals and visitors on the sightseeing trail and is open from Monday to Saturday from 10pm to 6am. Entrance at the time of writing was 11 euros, which gives you access to four different bars, two different dance floors and two complimentary beers to get your evening started.
Café da Cidade is another popular hangout for locals and students, located on Rua das Alcaçarias. Open from 11am until 2am Café da Cidade is a lively bar, which transforms itself into a dance bar as the night warms up.
Évora is something of a living museum – its architectural buildings and monuments date back to ancient times, with plenty of additions from the middle ages and the days of discovery. Wandering through the streets and simply drinking in the sights and sounds of the city is a delight not just during the day, but also at night.
The dramatic aqueduct and many sections of the castle walls are beautifully lit and make a wonderful backdrop for a night-time stroll through the cobbled streets. Some of the main sights are even open at night for visitors, such as the St Francis Church and its famous Chapel of Bones – though entering this eerie site out of daylight hours is not for the faint hearted!