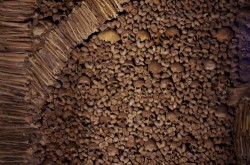 The Chapel of Bones, or Capela dos Ossos, in the Igreja Real de São Francisco in Évora, Portugal, is one of the city's most visited destinations.
The church itself was built in the late fifteenth and early sixteenth century and is a significant sightseeing destination in its own right, thanks to its delightful mixture of Gothic and Manueline architectural styles that were so popular in Portugal at the time. At this time no less than 42 monastic cemeteries were dotted in and around the city of Évora and space was beginning to become an issue, so following the construction of the church a group of Franciscan monks decided to move all the bones to one single, consecrated chapel in order to free up the land for further use and development.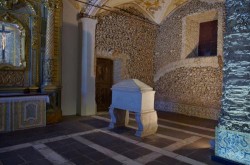 The decision to display the bones rather than hide them away was an interesting one, said to be to provide the monks with the opportunity to contemplate and confront the issue of death readily in one single place.
Hidden histories
The Chapel of Bones is accessed from the main church via a grand stone arch engraved with the message "the bones here await yours". It is estimated that there are more than 5,000 skeletons covering the walls in the Capela dos Ossos, a mixture of bones and skulls that are cemented into the walls with barely a gap between them. It was believed for some time that the bones were of victims of war or plague but, after further research, it appears that these were simply the mixed remains of the general population of Évora.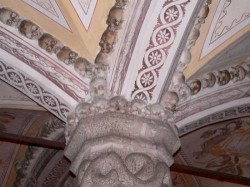 In homage to the important role of the church and its monasteries in Portugal, the bones of the monks who built the Chapel of Bones have in fact been kept separate from those that adorn the chapel walls, stored in a white coffin instead. Another point of interest is the two unidentified corpses that are suspended from a wall, one of a grown man and another of an infant boy. No one knows who they belonged to or why they are suspended in the Capela dos Ossos but there are many theories. Perhaps the most popular is that which springs from the sanctity of marriage in Portugal, pointing to the corpses belonging to an adulterous man and his young son.
The Chapel of Bones is one of Évora's more unusual sightseeing destinations, but it is unique and not unattractive, and certainly worth a visit.