Restaurants in Évora, Portugal, vary from the strictly traditional to gastronomic five-star dining. This UNESCO World Heritage city is full of cobbled streets and sixteenth-century buildings just begging to be discovered, and hidden behind the old stone walls of white and ochre are myriad options for tasting the best of the local food and wine.
The restaurants in Évora can be more or less classified into three types: small and friendly, something special, and strictly traditional.
The vaulted ceilings of the Taverna Restaurant give a feeling of space to what is actually a small and cosy dining room, with wooden tables and chairs packed in closely together, conducive to fun and conversation both with your own party and fellow diners. This is a family-run affair offering delicious food prepared with local ingredients freshly shipped in from the nearby farms of the Alentejo.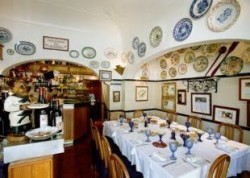 Another family-run favourite is the Tasquinha do Oliveira, one of the quirkiest eateries in Évora. This is more like being invited to a dinner party at the home of a good friend than eating out in a restaurant. The tiny dining room has just five tables seating a total of twelve diners and is decorated in the traditional style of regional Portugal.
For a special meal, head to O Fialho Restaurant. This establishment is something of an institution within this historic city, dating back to 1948 and offering a delicious fusion of modern European and traditional flavours brought together with care and flair by a highly talented chef. You will feel this one in the pocket but it is well worth the extra spend.
Divinus Restaurant is another excellent choice for a special or celebratory meal. It is located in one of the city's most famous historic buildings, the restored fifteenth-century Convento do Espinheiro, which is now a five-star luxury hotel. This makes for one of the most unique and attractive dining options you could enjoy during your trip to Portugal and is well worth a visit if you have a hankering for some fine food and wine.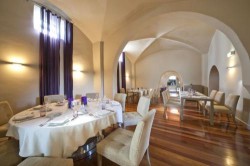 Located in the heart of the historic centre in the building of the sixteenth-century Sepulveda Palace, Degust'AR is Évora's ultimate in sophistication. Low, white vaulted ceilings dominate the proceedings, and yet the sixteenth-century architecture is offset beautifully by a contemporary feel and wonderful twenty-first-century décor.
Almedina Restaurant is the type of institution that is kind on the wallet whilst providing a real education on the local cuisine. The food here is traditional, featuring many dishes that are particular to the Alentejo region. The daily chef's specials are well worth a try and the a la carte options are plentiful and varied.
Another traditional favourite, located off a small side street, is the Luar de Janeiro restaurant. It has a long reputation as a provider of some of the best regional cookery in the town and has been rewarded for its efforts with several accolades and prizes.
There is so much to choose from in Évora food and wine, do take more than a day or two to discover the best that this historic city has to offer.
Read More...