Santa Engracia Church is a monument that dates right back to the 17th century. It was converted during the 20th century into the National Pantheon, or "Panteao Nacional', and is the burial place for a number of important personalities from Portugal.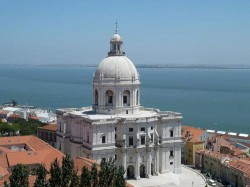 The National Pantheon is located in the Alfama district, directly across the waters of the river Tagus from the downtown Baixa area of Lisbon, Portugal.
There has been a church on the site of the National Pantheon for centuries. It was in the late 16th century that the first Santa Engracia Church was built in dedication to its namesake, sponsored by Princess Maria, daughter of King Manuel I.
After previous structures collapsed, the royal architect Joao Antunes, who was one of the most important baroque architects in Portugal at the time, was commissioned to design the current building.
After the architect died in 1712 mid-way through the works, King John V lost interest in the project and diverted his energies and resources elsewhere, leaving the church unfinished until the 20th century.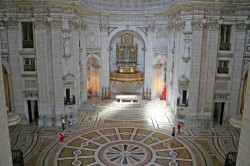 This has given rise to the popular reference to 'Obras de Santa Engracia', which has become a synonym in Portugal for unfinished works. Work was finally completed in the 20th century with the addition of a dome, and the Santa Engracia Church was reopened in 1966.
The architecture of the National Pantheon follows an ingenious design that was the brainchild of Joao Antunes. It follows a centralized floor plan with a Greek cross, with a square tower on each corner.
The main entrance is via an ornate baroque portal over which Portugal's coat of arms is held by two angels.
The interior features a series of multi-coloured polished marble slabs, dominated by curved spaces and enhanced with the addition of a wonderful 18th-century baroque organ which was originally located in Lisbon cathedral.
Individuals of note who are entombed in Lisbon's National Pantheon include Amalia Rodrigues, the most famous fado singer in the country, along with a number of statesmen such as Manuel de Arriaga and Oscar Carmona and artists such as Almeida Garrett.
There is also a cenotaph of Vasco da Gama and one of Henry the Navigator, two of the most important figures in Portugal's new world discoveries, along with further cenotaphs of Luis de Camoes, Pedro Alvares Cabral, Afonso de Albuquerque and Nuno Alvares Pereira.
The National Pantheon is situated at Largo de Santa Clara in the Sao Vicente de Fora quarter of the Alfama. It is listed as a National Monument and is worth a visit not only for its historical importance but for the wonderful 360-degree panoramic views it affords from the dome at its summit out across the Tagus River to the Lisbon skyline beyond.
National Pantheon – Santa Engracia Church
Campo de Santa Clara
1100-471 Lisbon
Portugal
Tel: +351 218 854 820