Portugal is a beautiful country with diverse attractions, breathtaking scenery and major historical relevance. While there is much to do in Lisbon city centre, if you have the time it is highly recommended to get out and about and explore a little further afield.
The best way to do this is by renting a car, and indeed having your own vehicle can be useful for finding your way around the city too.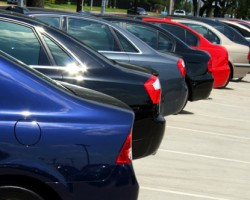 There are many rent-a-car Lisbon options, both at the airport and in the city centre. If you know that you will be requiring a car during your stay, it does make sense to organise your rent-a-car Lisbon right from your arrival at the airport.
There are many car rental Lisbon airport options, ranging from major names with a worldwide presence to small local companies with a dedicated car hire Lisbon airport fleet.
Eurocar, Hertz, Avis, Budget and other established names all have a presence in the airport but it is worth shopping around for the best deal as it doesn't always come from the biggest names. Local names include Auto Jardim and Guerin and Amoita, amongst others.
Car hire Lisbon airport information can be obtained online before you travel or alternatively head for the information desk at the airport where you will be able to get some up-to-date information on what's available.
Most of the car rental Lisbon airport cars are collected from the main parking building outside the airport terminal. As with car rental in any location, it is important to check your paperwork carefully and ensure that any pre-existing damage to the car is documented. This will avoid any potential misunderstandings at the end of the hire period.
When you obtain your car rental Lisbon airport quotes, do take into account what's included when you make your comparisons. One company may look cheaper on the face of it, but if the more expensive quote includes greater insurance coverage and no extras, it could work out cheaper and give you better cover in the end.
Remember to take your full driving license with you if you intend to rent a car in Lisbon. You will need the counterpart and the photo section, plus additional proof of identity and permanent address.
When exiting the airport, head for the 2a circular then take the exit for the main A1 Lisbon motorway if you are heading north or the Vasco de Gama Bridge if you are journeying southwards.
A satnav is useful; otherwise ensure you have an up-to-date map for your destination and motorway network. Remember too that electronic tolls are payable on some major highways, though there is usually an alternative route to follow if you are on a budget and/or not in a hurry.